Ralph Salvucci Online Bridge Competition
Announcements
The 2019 Ralph Salvucci Competition has ended! Congratulations to team Kiwis from Carver Middle High School for the winning design of $168,918.23.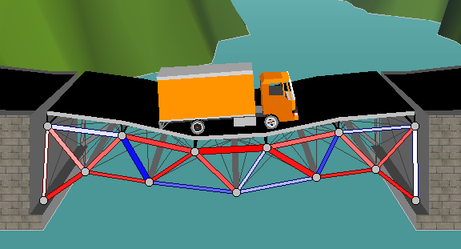 We will be celebrating the top 5 teams at the Spring Awards Celebration on Thursday, May 30, at The Chateau in Waltham, MA. The flyer for the event is here.
The 2020 competition will commence in January of next year!
Schedule
January 22, 2019 - Competition begins
April 30, 2019 - Competition ends.
May 30, 2019 - Spring Awards Celebration.
How to Enter
Registration for the 2019 competition has begun. Visit http://35.196.193.126:8000/contest/register/. If you cannot access the website, please send the following information to rsobcoordinator@gmail.com:
1. Team Name - This should NOT include the last names of the 1 or 2 member team.
2. School
3. Teacher's name
4. Teacher's email address
5. Team members first and last names. Please enter as you would want to be spelled on an award certificate.
6. Team members email addresses.
Use the following links to download the installation software:
For PC: https://drive.google.com/file/d/18I78hqlwQpNkufVZb7lbfnVIhz0YxmOY/view
For Mac: https://drive.google.com/file/d/1fTsjh_MIsX8foLdgldCnsp-YuL8Fr-O-/view
When setting up your bridge, you will be asked if you are participating in a local bridge design contest, select "No", even though you are. The competition does not use a 4 or 6 character contest code.

After you have registered, you can upload your working bridge design on the same site that you registered (link above). If you cannot access the website, send the file to rsobcoordinator@gmail.com and include the bridge cost and team name. You are encouraged to submit as soon as you have a working design and continue to resubmit as your design improves. Your bridge will appear in the "Unverified Bridges" Leaderboard until we have had an opportunity to verify the bridge design, at which point it will be moved to the "Verified Bridges" leaderboard.
About
The Ralph Salvucci Online Bridge Competition provides middle school and high school students with a realistic, engaging introduction to engineering. The contest is open to all students in grades 6-12. Students use free software to design the cheapest bridge that can carry the truck. When you click on the truck button, your design comes to life and if it can't make it – CRASH! Please email Alex Bonnar (rsobcoordinator@gmail.com) for more information.
Rules
Do NOT use your name in your team name!
A team consists of one or two students.
Even if you are entering on your own, you must enter your school info to verify that you are a Massachusetts grade 6-12 student. If you are home-schooled, provide enough information for the contest administrators to contact your parent guardian.
Leave the contest code blank when setting up your bridge.
You may change teams but you can only be on one team at a time.
2019 Leaderboard Final
updated May 2, 2019
| | |
| --- | --- |
| Rank | Team Name |
| 1 | Kiwis |
| 2 | Macsimum effort |
| 3 | Hash Browns |
| 4 | Brennan and Jake |
| 5 | JB |
| 6 | Amigos |
| 7 | Ralph |
| 8 | nisrineandzeinab |
| 9 | willsteam |
| 10 | Team |
| 11 | Nutty As Fruitcake |
| 12 | Wiggles |
| 13 | YOK Brige |
| 14 | Extra Credit |
| 15 | Hope |
| 16 | Alyah's Bridge |
| 17 | HeyMan |
| 18 | UR MY JAM |
| 19 | teamJatt |
| 20 | Dalison_15 |
| 21 | Bry and Rick Mach 1500 |

1. How do I register
Frequently Asked Questions
After December 31, go to http://35.196.193.126:8000/contest/register/
2. How do I submit my design?
Go to http://35.196.193.126:8000/contest/bridge/ to upload your bridge. You will need to register your team name before uploading your design. (See question 1)
3. Our school internet does not allow access to the registration website. What do we do?
Try uploading from home. Alternatively, please email rsobcoordinator@gmail.com with your team name, team member names (first and last), school, teacher, student contact email, teacher contact email. Bridge designs can also be emailed to this address. You do not need to register before starting your design.
4.4. Can I run the program on my Chromebook?
Unfortunately, the program is only compatible with Windows and Mac operating systems.
About Ralph
Not a day goes by I don't think about Ralph. I remember the first time I met him. It was the summer between my Junior and Senior years of college and I was working at Barnes & Jarnis. I remember just watching him inspect wondering what he was staring at for so long: why doesn't he just write down that it's rusty and we'll call it a day? Never. We packed up way before the sun, got breakfast (The Day and Night, The Miss Florence, The Agawam, The Four Sisters – ahhhh…) and hit the first bridge with the first golden rays. Ralph wouldn't just explain what he saw, he'd tell you why the bridge was having these problems, how it could have been avoided, and what should be done about it. Ralph, once a marine, had a dedication level towards his work to be envied. He loved going to the bridges: every one he dove into like he'd never seen a bridge before. And always with that Ralph sense of humor. He could have me laughing my gut out all day long. Well, hang around him for a while and you become like him, discussing the condition of a deck joint so deep you cruise right past exit 2 on the pike west (not a good thing, believe me). Inspect all day, write all night. And when you found a real problem with a bridge there was no rest to be found anywhere, and even more, we didn't want to rest. Ralph taught me to love what I do. It's never just a job.
Well, Ralph isn't with us anymore. He died on an inspection along I-93 in Charlestown a little while back. I may not be able to pick up the phone and hear him ask me "Hey, how's you face?" but he is not gone. He lives in all of us that he helped make better people, and in every bridge in this fine Commonwealth, in our thoughts, and in this contest.
Poompaloona.
- Reed Brockman