The Younger Member Group (YMG) is a BSCES technical group that serves college students and young engineers emerging in the professional workforce. YMG's mission statement is "to foster the professional growth, ethical awareness, and technical competence of the Section's younger members. The group organizes and encourages community outreach, supports engineering students at local colleges and universities, and encourages membership and participation in ASCE and BSCES committees, institute chapters, technical groups, and other activities."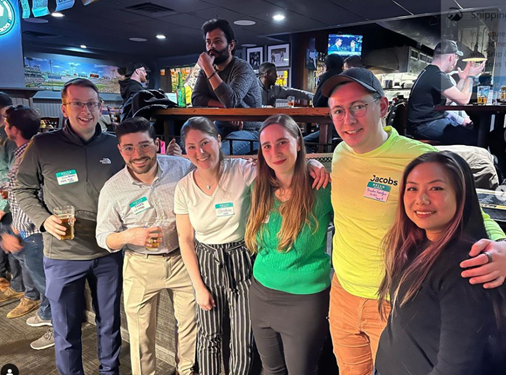 YMG Board at this year's Annual Billiards Tournament
Annual Billiards Tournament
As we entered a "new normal" phase of the COVID-19 pandemic, one of YMG's primary goals for this year was to safely transition to our historically strong slate of in-person events. Events hosted by the YMG occurred on average about once per month, and are a mix of social/networking events, technical events, student-oriented events, and volunteering/community service events. In the past year, YMG has hosted the following events:
Friday Night Supper Volunteering Program (Co-hosted with EWRI)
Civil Engineering Trivia at Trident Booksellers
Parcel 12 Site Tour
Holiday Party at Sacco Bowling/American Flatbread in Somerville
Hunger Free Holidays fundraising campaign for the Greater Boston Food Bank
Annual Billiards Tournament at Beantown Pub
Senior Level Tech Talk, hosted by Kleinfelder
Charles River Cleanup (Co-hosted with the SEAMASS YMG)
2023 BSCES Student Night, hosted at SGH's Waltham office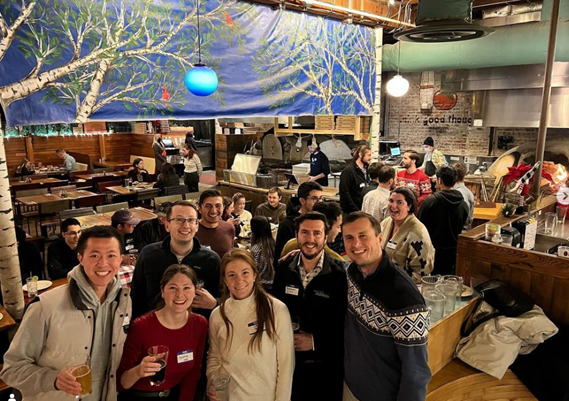 YMG Holiday Party at Sacco Bowling/American Flatbread
Upcoming events to look out for include:
Junior Level Tech Talk – May 10, 2023 at HNTB's Boston office
Red Sox vs. Mariners Outing and Networking – May 17, 2023
End of Year Social – June 2023 (Date/Location TBD)
Within the YMG, there is also the Student Chapter Committee which serves as a link between BSCES and 10 Massachusetts college and university ASCE Student Chapters. The committee is comprised of a chair and at least one liaison supporting each of the 10 chapters. The Student Chapter Committee provides support by relaying information regarding scholarships, valuable networking opportunities, and student-oriented resources to help promote the academic careers and professional development of Student Members. YMG and their Student Chapter Committee's goal for the immediate future is to continue fostering these relationships with the student chapters, and to provide additional support through student-geared events!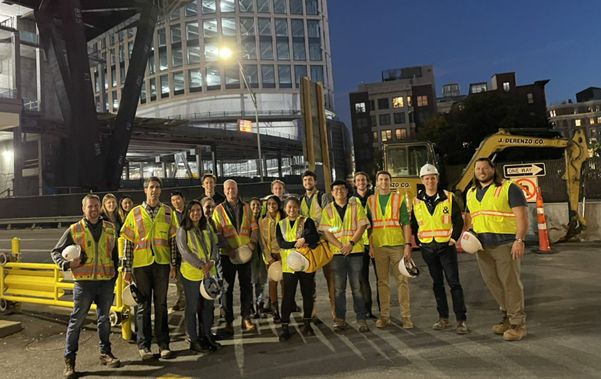 YMG at the Parcel 12 Site Tour
The YMG hosts hybrid executive committee meetings the first Tuesday of every month from September through May to discuss past and upcoming events, to share student chapter and community service updates, and to share updates from BSCES and its other technical groups and institute chapters. Currently, over a dozen young professionals from a variety of disciplines within the civil engineering industry serve on this committee. All younger members who are interested in joining our group are welcome to attend these meetings during which you can meet committee members and expand your network!
Follow the YMG on LinkedIn and Twitter and our newly formed Instagram account (@bsces.ymg) to stay up to date on upcoming events. For more information on how to get involved, click here or come join us at one of our virtual monthly meetings by emailing ymg@bsces.org. For more information about the Student Chapter Committee, email student.chapter.comm@bsces.org.