On Wednesday, December 14, the Younger Member Group had its Annual Holiday Party at American Flatbread/Sacco Bowling in Somerville, MA! Over 40 people enjoyed flatbread, drinks, and candlepin bowling (which looked foreign to most folks!), which makes this one of the best-attended events since before the pandemic! This was a great opportunity for students and young professionals to network and make new friends.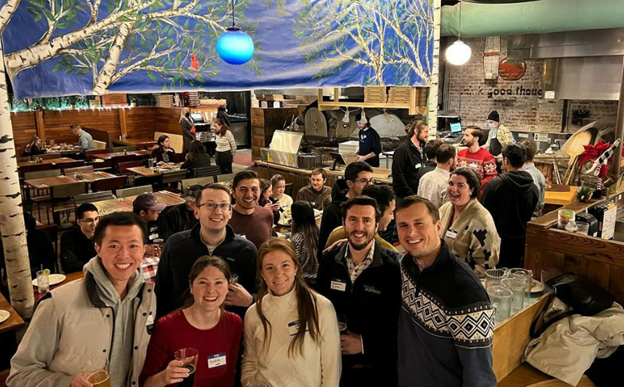 Members of the Younger Member Group attending the holiday party
As a lead up to the event, YMG ran a fundraiser for the Greater Boston Food Bank Hunger Free Holidays campaign. This holiday season, YMG raised over $1,800 for the campaign! The Greater Boston Food Bank's annual Hunger Free Holidays campaign raises awareness and funds to provide healthy holiday meals to those in need throughout Eastern Massachusetts. YMG had participated in this fundraiser for many years and appreciates the generosity of its members for their donations!
The mission of the Younger Member Group is to foster professional growth, ethical awareness, and technical competence of the Section's younger members. The group organizes and encourages community outreach, outreach to local engineering colleges and universities, and encourages membership and participation in ASCE and BSCES committees, technical groups and other activities. We are always looking for new members! Find out more information here or come join us at one of our virtual monthly meetings by emailing YMG@BSCES.org.