The 2019-2020 year was a unique one, with no exception for the Boston Chapter of the Transportation and Land Development Institute (T&DI Boston Chapter). While we have remained active behind the scenes, event planning has slowed down as COVID-19 swept into Massachusetts in the beginning of 2020. The last several months have seen professional life shift from offices, conference rooms, and banquet halls to at-home offices. Many events were postponed as speakers or guests struggle to juggle responsibilities with limited resources. While the coming year may not be dramatically different than the last several months, we hope that we can provide our members some semblance of return to "normal."
2019-2020 Recap
On November 5th, T&DI partnered with our friends in Western Massachusetts to host UMass Tech Day. The event hosted an opening talk from the MassDOT Highway Division Deputy Administrator/Chief Engineer Patricia Leavenworth, a career advice panel, a technical panel, student poster presentations, and a Dinner Keynote discussing Vision Zero. These events support student and professional development while offering networking and recruitment opportunities in a more social setting than a typical career fair.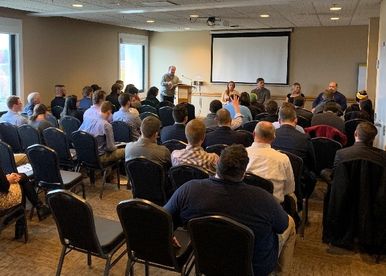 Figure 1. Picture from the
UMass Tech Day, Hosted on November 5, 2019
On December 12th, we again partnered with the Younger Member Group for the annual winter social event, hosted at The Pour House in Back Bay. The event regularly draws a crowd, allowing T&DI members to interact and socialize with younger members from many other fields of Civil and Environmental Engineering.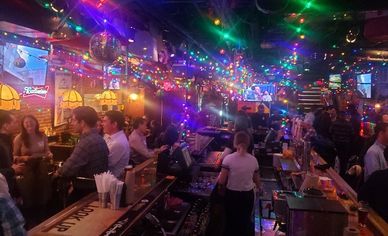 Figure 2. Picture from the TD&I and Younger Member
Group Annual Winter Event, Hosted on December 12, 2019
On June 10th, we hosted a successful webinar with RoadBotics speaking and offering project summaries of Pavement Management. The webinar drew public and private viewers interested in how to rank/score and maintain one of the most valuable systems of infrastructure a municipality owns within an appropriated budget.
Signature Event: Bertram Berger Seminar
The Bertram Berger Seminar is the signature event of the Transportation and Development Institute Boston Chapter yearly calendar and was slated to return this June to the University of Massachusetts Club on Beacon Hill. The event was unfortunately postponed for the health and safety of our members and guests. We were excited to present a great program moderated by authors of the Boston Globe's Spotlight Series Seeing Red, which took a dive into the area's choking traffic congestion. The series explored measures to reduce commuting congestion into and out of the City, such as working from home, which was all but validated by the Stay at Home Order we experienced this spring/summer. The next seminar is scheduled for June 2021 at University of Massachusetts Club. Program specifics are still in the planning phases.
We are actively recruiting members with new ideas to join the Berger Seminar planning committee. If there is a topic you would like to see covered please consider reaching out and calling in to committee meetings, we would be glad to have you.
In addition to our signature event, T&DI hosts smaller technical and social events throughout the year. We will continue to collaborate with other technical committees to provide opportune networking and encourage new membership while enhancing T&DI's presence in the engineering community. Given the current global health climate, expect these events to continue virtually as webinars and video conferences.
The Road Ahead
On August 12th, we held our first meeting of the new fiscal year for all interested committee members to discuss a full agenda of T&DI Boston Chapter action items for the upcoming year. During this meeting, the executive committee welcomed some new faces/voices, discussed the year's planned T&DI Boston Chapter events, set meeting schedules, and re-evaluated goals as we collectively move towards the "new normal." The group meets virtually every other month and is actively welcoming new members looking to take on small or large leadership roles.
We have several upcoming events planned for the end of 2020 including our first lunch time webinar, held on October 1st, discussing Boston Transportation Department's New Directives in Transportation Access Plan Agreements. In early November (subject to change) we will partner with the Government Affairs & Professional Practice Committee for a three-day webinar workshop regarding Innovative Financing for Large New England Projects. On the social events end of the spectrum, we anticipate having our annual joint winter social with the Younger Member Group in December. Please keep an eye on the newsletter, website, and social media for more details as they become available for these and all future events.
Getting Involved
It is the T&DI committee's goal to provide technical learning and networking opportunities for transportation specialists and enthusiasts. T&DI plans to host events that solicit expert speakers that can spark engaging discussion; whether that be in webinars or (eventually) in person. We are seeking members who are interested in planning or championing these events as fun way to get involved.
In order to become successful in achieving our goals, we are looking to engage innovators, leaders, and motivated individuals in the transportation and development profession. It is through new ideas and an extensive knowledge base in engineering practices, social interactions, and event management that the T&DI Boston Chapter will contribute to enhancing the engineering community at large. This is your opportunity to stand out and show what you can do outside the day-to-day practices within your private company or public agency and to advocate for and help communities throughout the commonwealth. If you are a transportation or land development professional looking for a group where you can discuss current happenings, exchange ideas, and strive to make a difference – you are invited to join the Boston Chapter of T&DI.
To learn more, you can contact TDI@BSCES.org or visit our LinkedIn and Twitter pages. Be sure to review our newsletter for current news on events and meetings for the T&DI Boston Chapter.