Wastewater can be a little gross, but useful. Wastewater surveillance is a great tool to understand public health, including COVID-19. You probably heard about the national effort to identify the presence of the virus and evaluate COVID-19 trends in facilities, institutions, workplaces, and communities by measuring the SARS-CoV-2 RNA concentrations in wastewater. This practice is called Wastewater-Based Epidemiology, or WBE, and can provide virus trends in targeted areas to prompt specific public health actions. Monitoring of wastewater for SARS-CoV-2 has been valuable in detecting and preventing the spread of the virus given that individuals can start shedding the virus in wastewater up to 7 days before they are symptomatic enough to seek testing. It is easier to monitor virus trends on a larger scale through regular wastewater surveillance compared to clinical testing of individuals.
A simple Google search reveals numerous participants in the COVID surveillance program all over the United States and the Globe. One local example is Massachusetts Water Resource Authority's (MWRA's) Deer Island Wastewater Treatment Plant. Wastewater is sampled at the site, analyzed by a laboratory that can analyze for SARS-CoV-2 (in this case Biobot Analytics, a Cambridge-based company founded by MIT scientists) and the results posted to the Wastewater COVID-19 Tracking chart on the MWRA's public website. Check it out - it is amazing how sewer observations can provide useful information on the presence and trend of the virus and support clinical data!
CDM Smith also helps our client, the Massachusetts Department of Public Health, manage the pandemic through collection of wastewater samples at targeted locations across Massachusetts. I am a part of a team of engineers and scientists that adopted and refined the CDC's NWSS guidance in developing and implementing a successful wastewater sampling program. We sample untreated wastewater at manholes in the collection system or outside buildings, that receive wastewater from facilities or areas of interest, often comprised of high-risk populations. One important consideration we make in conducting COVID-19 wastewater surveillance is identifying viable sites that can adequately isolate the wastewater flow from the area of interest with conditions appropriate for deploying autosamplers for 24-hour composite sample collection. Once we select the sample locations and confirm manholes are viable sites, our sampling effort in general includes popping a manhole cover at selected intervals during the week, pulling out an autosampler, and pouring sample into sample vials to ship to the laboratory for analysis (Figure 1).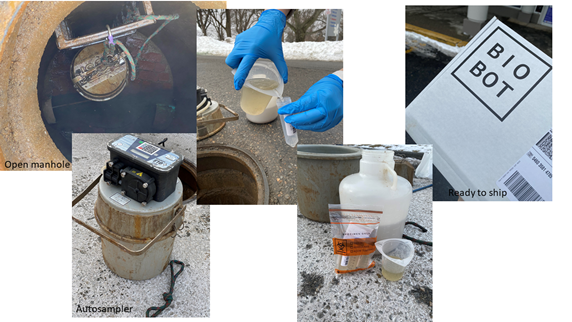 Figure 1. Watewater sample collection for COVID-19
Now, let's get down to the nitty-gritty of collecting wastewater. We start by ensuring the workspace is safe by placing safety cones around manholes where needed. Next, we lift and remove a manhole cover using appropriate tools. It can be slippery around the manhole, so we spread sand to ensure safe and secure footing (falling into the manhole is not recommended). We pull the autosampler up to the ground level for sample collection, and this effort can require two people. The autosampler consists of a peristaltic pump, programmable controller, rechargeable battery, and tubing long enough to reach to the bottom of the manhole. The autosampler collects composite samples by pulling multiple grab samples every 10 to 15 minutes for the 24-hour duration. If the sampling device malfunctions, a grab sample is collected instead. However, a grab sample is less representative of the facility wastewater contribution because it doesn't sample throughout the day when various potentially infected individuals could be using the bathroom. We generally collect samples 2 to 3 days per week at most sites. The MWRA samples every day. We package three 50 mL tubes in a biohazard bag and ship to the lab. Our last step is to reprogram the autosampler to collect a 24-hour composite for the next sample day.
When I was first asked to collect SARS-CoV-2 samples, I felt worried and excited at the same time. I was not sure if there was any risk with working directly with wastewater that could potentially contain the virus genetic material, even though it was inactivated. But the robust Health and Safety Plan (HASP) implemented for the project made me feel confident that I was not putting myself or my family at risk. Some of the precautions we exercise during sampling are the increased frequency of handwashing and sanitizing, face masks, work gloves, work clothes that gets changed before returning to workspace, and shower immediately after sampling. In addition to the CDM Smith HASP, there is no evidence to date that the virus can spread through surfaces, droplets, residues, or inhaled vapors of wastewater. So, my curiosity and excitement overcame my fears.
When I was in grad school at WPI, I researched antibiotics in wastewater. I learned how a class of antibiotics, fluoroquinolones, accumulate in dewatered sludge during wastewater treatment and enter the environment through application to agricultural soils. I also learned that wastewater could tell what is going on in selected communities or towns without testing individual people, and that the substances we flush down the toilet could be a useful source of information that could inform public health action especially during pandemics. And here we are in 2022 working on something I learned about 6 years ago not thinking we will be living through a historical moment that has fundamentally changed lives everywhere.