Successful life cycle management of bridges is heavily dependent on gathering high quality inspection data for engineers to make good decisions on maintenance, repairs or replacement. The creation of digital twins of bridges is a relatively new technology but is demonstrating it can improve the quality and efficiency of bridge inspection and management. Digital Twins are digital representations of physical assets and are geometrically, visually and geospatially accurate. These models can be viewed and manipulated with viewers and CAD software locally or online. The models can also be viewed in mixed reality using the Microsoft Hololens platform.
Collins Engineers has been a leader in using drones to collect images to create digital twins purposefully for managing bridges. Our teams have collected data and created digital twins of over 500 bridges throughout the United States including numerous large scale complex bridges.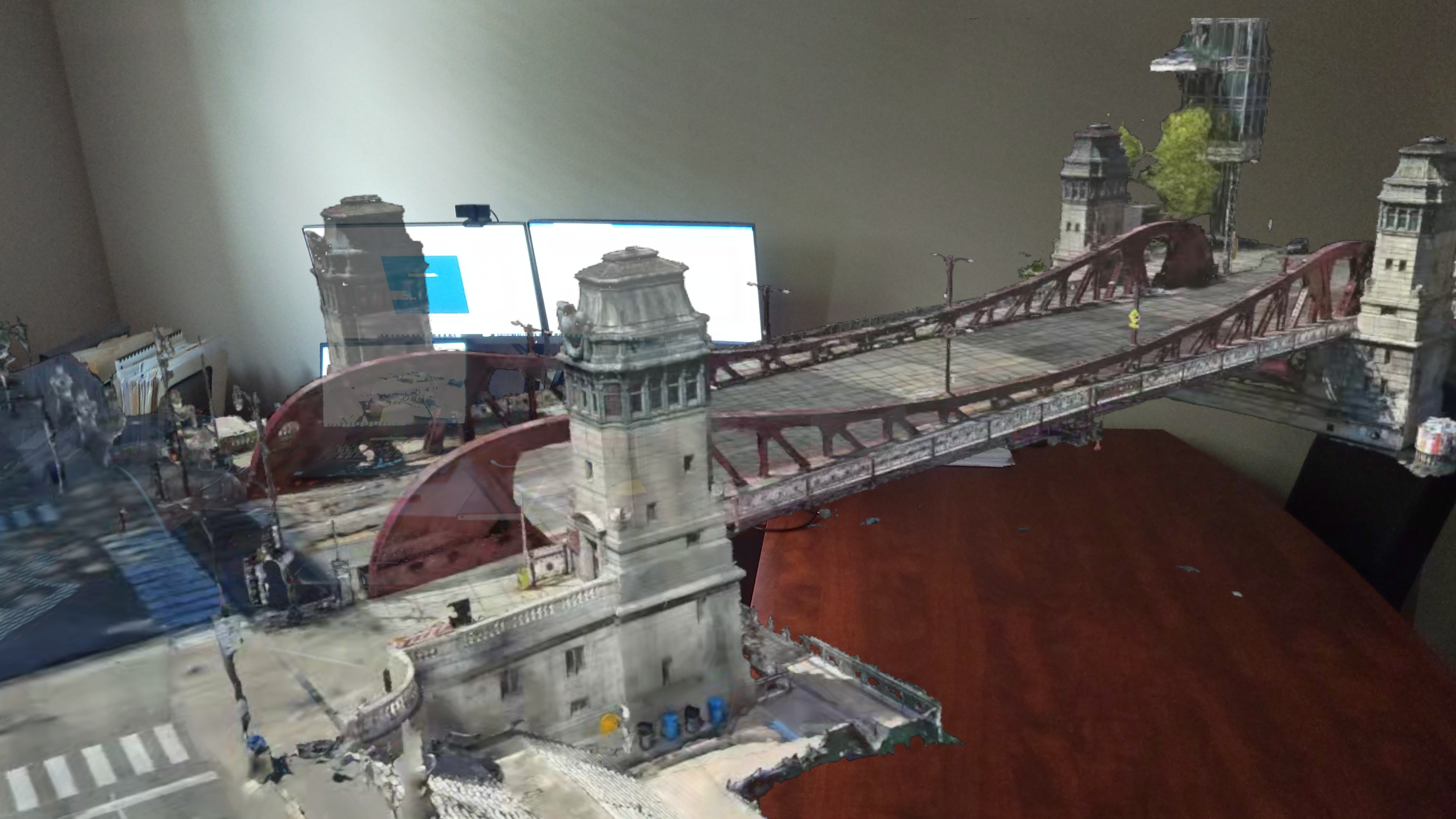 Chicago LaSalle Bridge hologram inspection
This digital twin workflow can provide numerous benefits to bridge owners. The inspection and non-destructive evaluation process is streamlined since the UAS data collection and digital twin creation contains a large amount of information on the bridge. Inspectors can view and annotate the models with NDE results and defect information on tablet computers and no longer need to take measurements or photos in the field since this information is inherent to the model. The digital twins created for bridges not only provide valuable information to the project team, but the models themselves also become a communication tool for team members. Digital twins can be shared during meetings so that team members can collaborate and solve problems. Instead of spending valuable time trying to describe project and bridge details, teams can view the digital twins and instantly have the same understanding of the bridge condition and configuration. Utilizing digital twins can reduce costs and improve safety for the inspection teams and the traveling public and more importantly reduce risks for the owners by improving the data available to make better decisions for bridge management.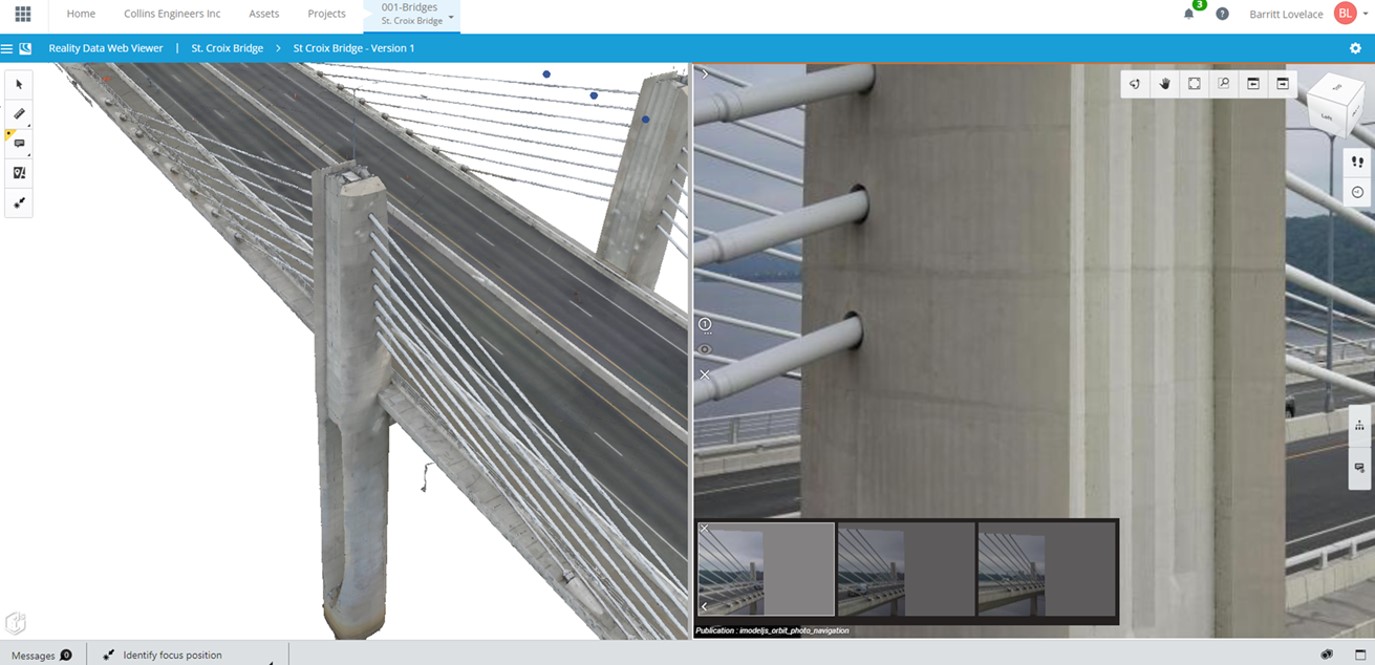 St. Croix Crossing Bridge digital twin and 3D photo log
In addition, Collins Engineers has been developing and implementing Artificial Intelligence with a focus on defect detection for bridge inspections. This technology is demonstrating it can improve the efficiency and accuracy when identifying and quantifying defects such as cracking, spalls and delaminations. Our engineers are training AI by employing machine learning techniques to further improve quality. Deficiencies can be viewed in context on the digital twins and can be quantified and incorporated into repair documents. Collins is also employing AI in data collection with UAS. We routinely use hardware and software that can collect data on complex three-dimensional structures autonomously. This technology is improving our ability to reliably collect data to process into digital twins.
Summary of Digital Twin and AI Crack Detection Benefits
Reduced Project Risks
Cost Savings
Quality Control Improvements
Safety Improvements
Better Collaboration
If you want to learn more about this topic, plan to participate in SEI Boston Chapter's hybrid event titled Utilizing Unmanned Aircraft Systems (UAS), Digital Twins and Artificial Intelligence to Improve Bridge Management on February 8! This presentation will describe the workflows for collecting, processing and sharing bridge digital twins. Attendees will take away and understanding of how to incorporate digital twins into projects and understand how these workflows can reduce risk and improve project communication.