American Society of Civil Engineers established the Utility Engineering and Surveying Institute (UESI) to offer professionals working within the utility, pipeline engineering, and surveying/geomatics communities the opportunity to network with others and shape the future of the industry. In 2021, BSCES established UESI Boston Chapter, whose mission is to advance the utility engineering and surveying industry through collaboration, dissemination of technological advances, and raising public awareness. UESI Boston Chapter welcomed five new members this year and now has a core group of active members consisting of local utility owners, engineers, and contractors and is looking forward to expanding membership.
Overview
The chapter holds monthly meetings via Zoom, generally from 12:00 PM to 1:00 PM. We are always looking to increase our active membership, so if you are interested in joining in on UESI's planning efforts, please reach out! We are seeking members who are interested in identifying topics of interest, planning or championing events, and promoting UESI.
Recent and Upcoming Events
On October 19, 2022, UESI Boston Chapter sponsored a webinar titled "Protecting Buried Pipelines and Sewers During Construction" that was well attended and had a great Q&A discussion. This webinar explored examples of the loads imposed on existing buried infrastructure by new construction and construction activities, discussed various methods for determining how surface loads are transmitted through the soil and into buried structures, and shared potential approaches to reduce the effect of such loads on the structures. UESI Boston Chapter has planned another webinar on June 14, titled Subsurface Utility Engineering (SUE) and Project Development Considerations. For the remainder of the year, we will focus on actively recruiting local professionals to join UESI Boston Chapter to contribute their knowledge and to identify topics of interest for the local industry.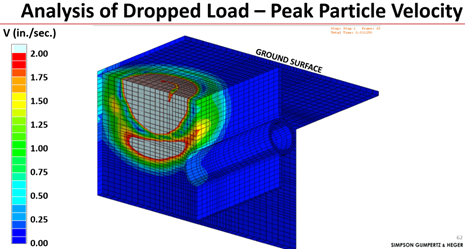 Wave propagation through soil to buried pipeline due to load
dropped on ground surface (from October 2022 webinar)

Get Involved!
These activities would not be possible without the dedication and support from our active UESI committee members, who serve on a volunteer basis. We're always looking for new members to help run events and to bring new ideas to the table. If you're interested in getting involved with UESI Boston Chapter, please contact me at PDNardini@sgh.com or UESI@bsces.org for more information.