The Netflix miniseries, "The Queen's Gambit" concerned the rise and progress of a young female chess player starting in the 1950s. It is an astonishing and excellent series, astonishing in that such a riveting drama can be based largely on watching chess games. When the series first streamed last year, it was the top program, which I guess is also pretty impressive. Apparently, a lot of people enjoyed watching tense chess matches. The current top program, I think, has something to do with mollusks and people getting "eliminated" if they perform poorly in children's games.
For those who have not seen the series yet, mild spoilers follow. Most of the spoilers involve bridge construction issues, which perhaps are not as much of interest to general viewers.
The plot of the first episode hinges around a highway accident that occurred on a bridge in the 1950s. The scene was filmed on an actual bridge, the crossing of Meadowvale Road over Little Rouge Creek in Toronto, Canada. This bridge is a historic Warren pony truss, possibly of 1930-1950s construction (I don't have the exact date, could be a bit earlier). The original bridge was rehabilitated at some time after its construction, with repairs/replacement of deck and addition of Thrie beam guardrail to the sides and approaches.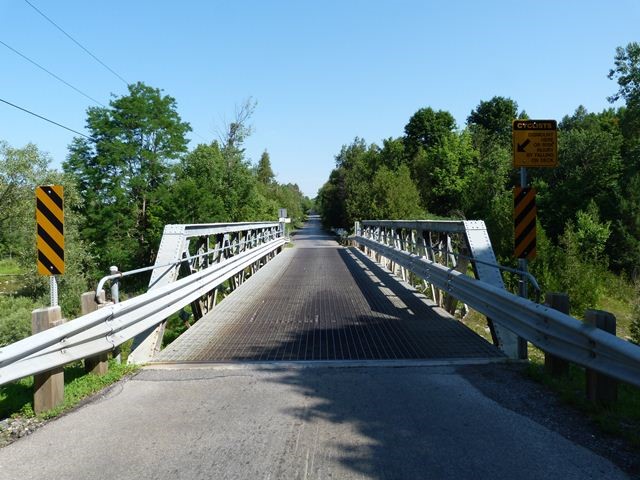 Meadowvale Road Bridge over Little Rouge Creek in Toronto City, Ontario
Photo by Nathan Holth and Rick McOmber
I was watching the episode with my wife, and I became concerned a few minutes into the show.
She asked, "What's wrong?"
I responded, "I think there is a problem with the bridge they are showing."
The historic truss has Thrie beam guardrail. But would that have been present in the 1950s, even as an addition to an existing truss bridge? I thought that this safety detail was developed later. If so, that would be inaccurate, because what is depicted would not have been there at the time the scene was to have taken place. True, the show is about chess, but one would think that they would get their bridges right.
Seeking some solace, I asked members of our SEI/BSCES structural team to see what they thought about this apparent unforced bridge error. Mostly I was looking for some backup about the historical disconnect. Peeyush Rohela, our Vice Chair, did a little research and contributed some excellent analysis:
I would call your [request] Brian's Gambit. And like the Queen's Gambit in the game of chess, it is difficult to not accept it!
Thrie beam guardrail likely did not exist at the time in which the show is set. I say this based on the NCHRP Report 115 Guardrail Performance and Design (1971) which finds no mention of a Thrie beam guardrail. Interesting, however, it is to read the introductory paragraphs (and subsequent ones should you accept Brian's Gambit) of the Performance of a Thrie-Beam Steel-Post Bridge-Rail System paper by Bryden and Phillips, 1985.
I strongly agree that a bridge expert should have a spot in the core team of any film and TV production because based on my countless hours of consuming media, I have come to the conclusion that anything that is worth watching has an intentional, or unintentional, shot of a bridge in it.
I do want to watch "12 Angry Men" one more time (to those who are unfamiliar, the entire movie is shot indoors, mostly in one room), just to ascertain if the mention of the noise from the passing train that the 8th juror said would have obscured what the defendant allegedly said to his father included a mention or depiction of a bridge or not (even in imagination). If it does, or if it is even implied, my theory would be confirmed. Otherwise, we'll just call it an exception or maybe even knock down the movie a few places down on the "everything worth watching" list.
Fun fact: The movie lost (Academy Awards) to "The Bridge on the River Kwai" in all three categories of Best Director, Best Picture, and Best Writing of Adapted Screenplay. I don't understand why people were surprised by that?
And, Brian..….that's a check.
As you can see, Peeyush expanded the discussion to mention some bridges depicted in other movies. To his list, I add the (unfortunate) experience of the Bayonne Bridge in the remake of "The War of the Worlds". In addition to incinerating half the human population, the Martians also decided to blow up the bridge. Fortunately, neither of these happened, since the movie is fictional and there are no Martians. In reality, the bridge was rebuilt a few years ago when the deck was raised with limited traffic interruption to allow passage of taller freight vessels below it. It is possible that as part of this interesting design and construction project, not only was more room provided for cargo ships, but the structure was strengthened to resist Martian attacks.
Bayonne Bridge connecting Bayonne, New Jersey and Staten Island, New York
Photo by Jim Henderson
The Queen's Bridge Gambit can help to introduce a discussion about legacy structures and the historical progression of design. Infrastructure engineers design to current codes and standards. But the results of past designs remain in use. Our built infrastructure is a blend of the past and the present. For non-engineers, there is perhaps less understanding and awareness of this living history that forms the physical backdrop of our lives.
To conclude, we travel (somewhat appropriately) to Queensferry, Scotland. Along the River Forth, a living history of long span bridge design and construction is amazingly on display.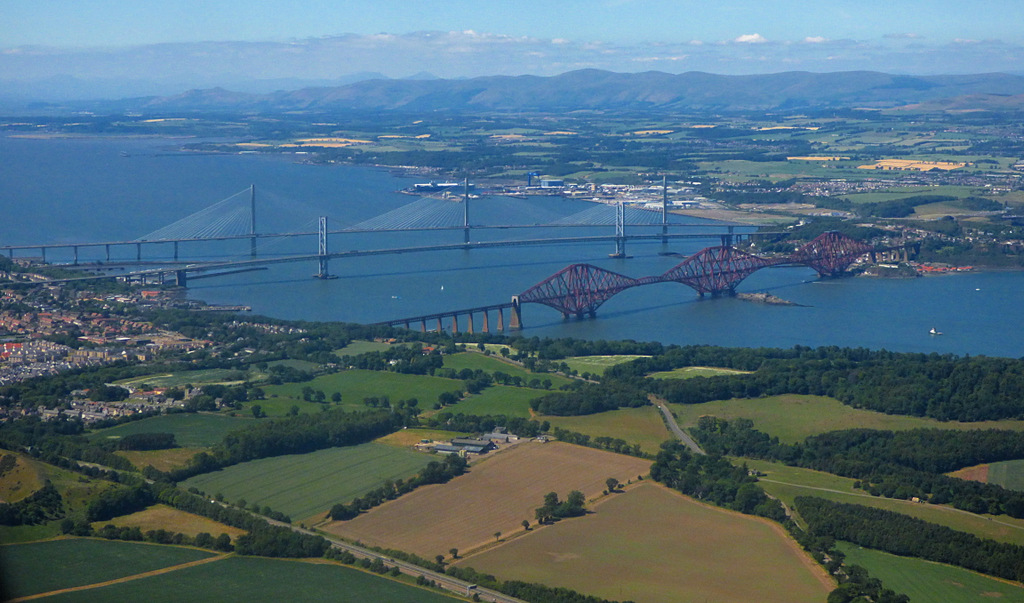 The Forth Bridges from the air
Photo by Thomas Nugent
You can view the historic cantilever truss railroad bridge, the long span suspension highway bridge and the recently built cable-stayed highway bridge. All are brilliantly on display at the same site, reflecting on their respective eras of design and construction. For a bridge engineer, the view is a bit like being in a time warp.