It takes more effort, creativity, and money to build a modern office that is not only a great place for 360 employees to serve the Commonwealth, but also powers itself using solar energy. It also takes vision to understand that the long-term savings of net-zero buildings with health and productivity benefits for workers is a worthwhile investment. That is just what MassDOT achieved when they completed construction of the new District Three office in Worcester within the original construction budget. On March 30, members of the Transportation & Development Institute Boston Chapter visited this modern facility on a tour guided by Tom Emerick, deputy district highway director.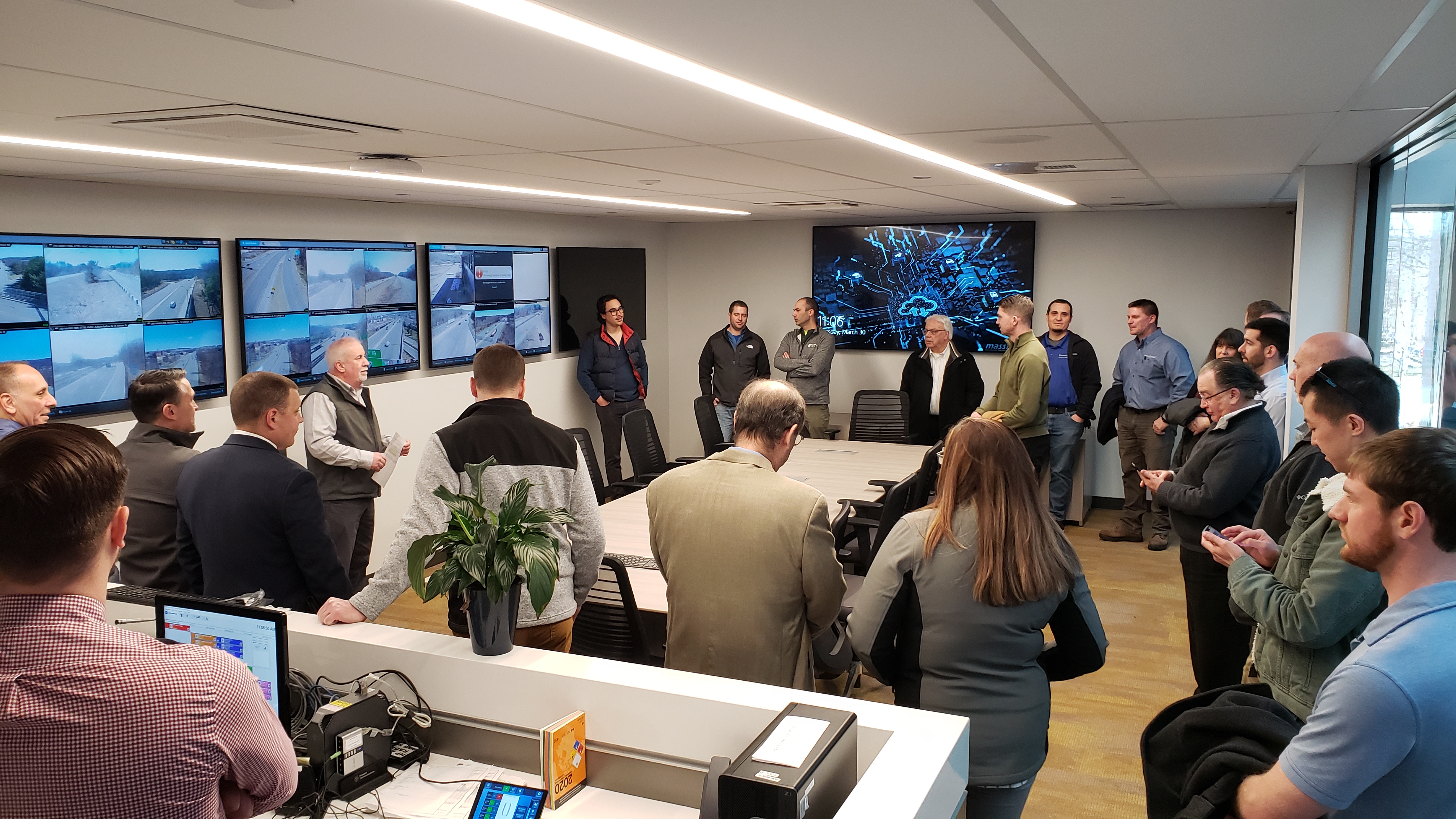 Site visit attendees on tour
In the District Operations Center, our first stop on the tour, Tom introduced us to the technology that District Three uses to manage highway operations and incidents. This modern room displaying the live feeds of 18 interactive 360-degree highway cameras on the wall also serves as collaboration space for MassDOT and Massachusetts State Police during emergencies and major weather events.
Entering the workspace and office areas, you see creative design with high ceilings, a thoughtful floorplan, and historical photos on the interior walls celebrating MassDOT's many years of modernizing and maintaining our infrastructure. Modern glass technology in the huge south-facing wall delivers beautiful nature views while managing solar heat to keep the District Three team comfortable.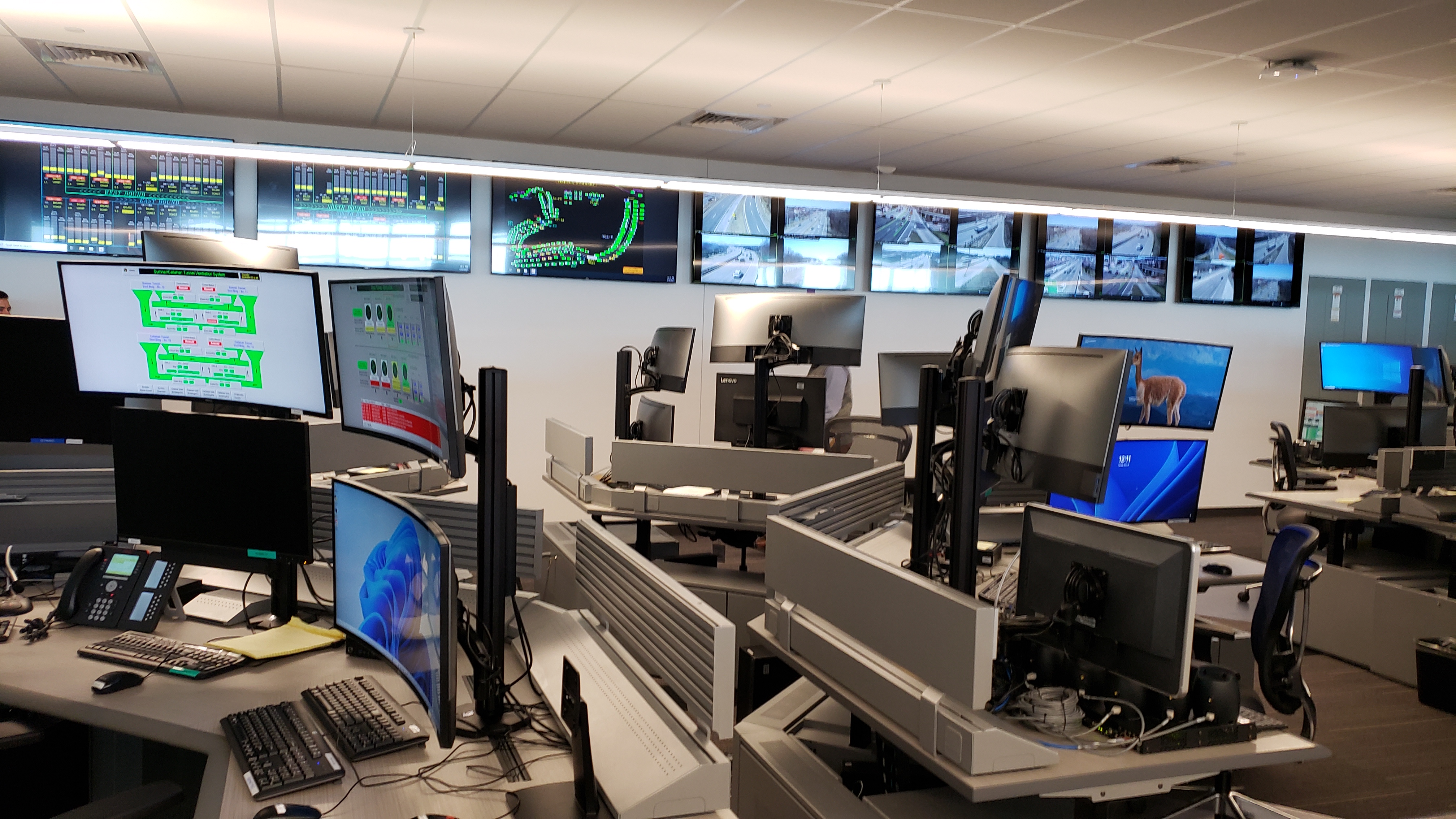 Operations center
The lower levels of the headquarters host a Highway Operations Center working in conjunction with the DOT's primary center in South Boston, plan-and-record spaces for all active District Three projects, and an atrium complete with an architectural replica of the Burns Memorial Bridge connecting Worcester to Shrewsbury on Route 9. This bridge features elegant lighting that can be programmed with a variety of themes. The bridge replica at the District Three headquarters reflects that design reminding visitors of the important work that goes on at this office. Plans are also in the works to ensure the replica's lighting simultaneously displays the same theme as the actual bridge.

View out the windows
A high-tech training center with microphones built into the ceiling and cameras that follow a speaker around the room allows MassDOT to deliver engaging in-person and virtual trainings with ease. Meanwhile, down the hall, they have the ability to monitor the Callahan Tunnel's ventilation system and field calls from the public in the highway call center.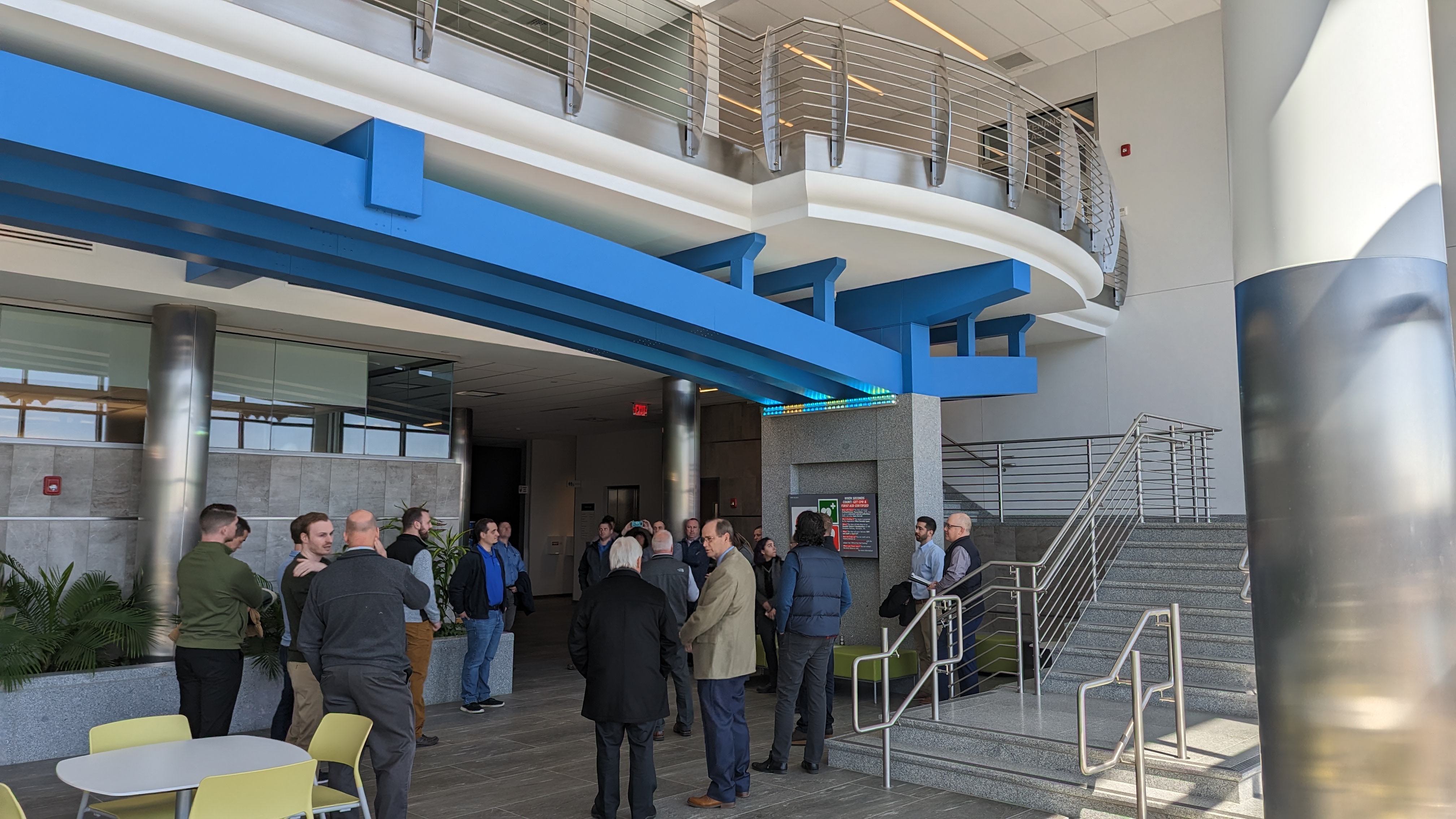 Atrium
The previous MassDOT District Three office was well beyond its useful life. The new building's net-zero design, fleet-and-employee vehicle charging stations, and high-tech monitoring and collaboration spaces serve as a model for employee-focused design that reduces our climate impact. We appreciate Tom Emerick setting aside time in his schedule for us and the opportunity to connect with fellow BSCES members. Past T&DI Boston Chapter Chair, Tyler de Ruiter of BETA Group, Inc. remarked, "There is something unique about a tour, where you can actively network with other engineers as you walk around together and learn." We look forward to hosting our next tour event and future collaboration with MassDOT. Consider joining T&DI Boston Chapter to stay in the know and hear about our upcoming events. Email TDI@bsces.org if you are interested.