CHA Consulting, Inc. (CHA) was retained by the Rhode Island Department of Transportation (RIDOT) to develop Accelerated Bridge Construction (ABC) techniques for the rapid replacement of Bridge No. 078101, carrying Route 4 over Lafayette Road, in North Kingstown. CHA designed a Lateral Slide Method (LSM) ABC project with J.H. Lynch & Sons serving as the contractor following their low bid. Both bounds of the replacement bridge were successfully slid into place in late 2019, serving as the first lateral bridge slide project in Rhode Island.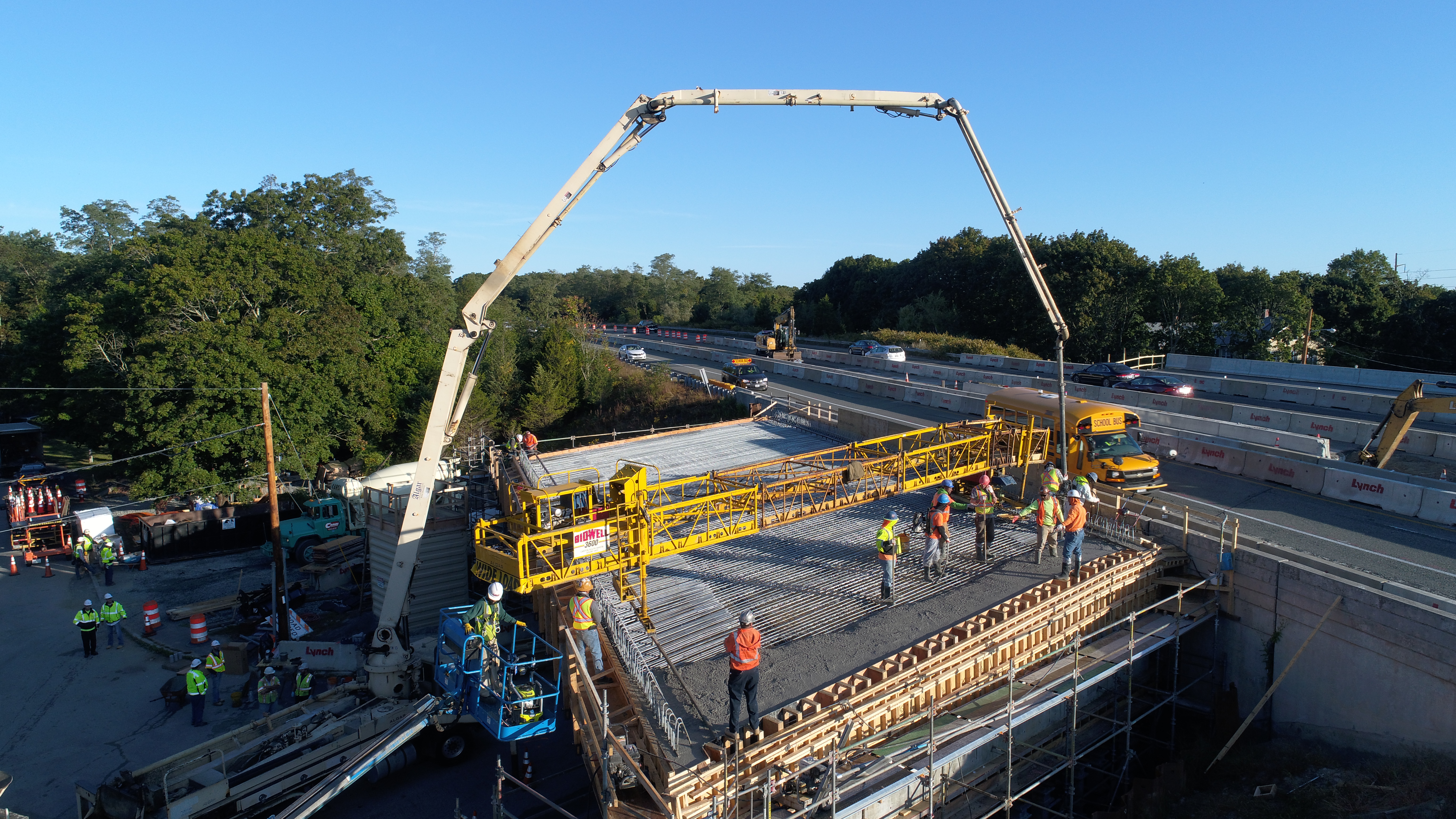 New superstructure being built adjacent to existing structure
The existing bridge, built in 1988 as part of the Route 4 Extension project, consisted of a single 78' span of adjacent pre-stressed box beams, transversely post tensioned, and supported by concrete abutments on spread footings. The bridge had one bound in each direction with a curb-to-curb width of 39'-2" and an out-to-out width of 42'-8". Each bound had a skew of approximately 27 degrees. The existing bridge did not have a concrete deck and instead, the pavement was placed directly on the top surface of the box beams which led to deterioration of the superstructure and a classification of 4, or "poor" during recent NBIS Inspections.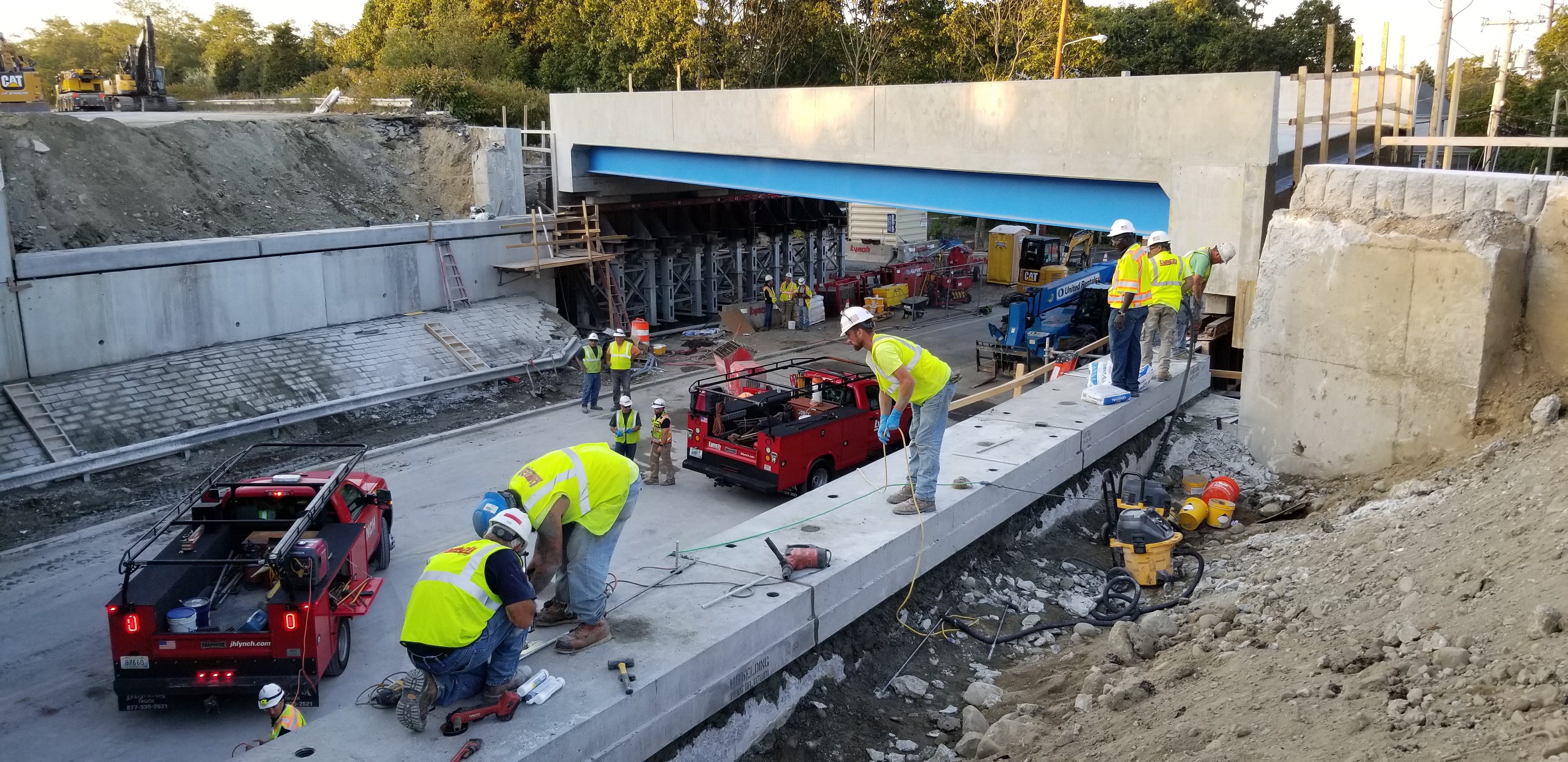 New precast abutment caps being installed to support new superstructure
Route 4 is classified as an urban freeway/expressway, consisting of four 12' wide travel lanes (two lanes in each direction), 6-ft wide inside shoulders and 10' wide outside shoulders separated by concrete barrier. Traffic counts taken in May 2018 indicated a daily traffic volume of approximately 64,500 vehicles per day evenly split between the northbound and southbound directions. In the summer, Route 4 serves as a major connection to Rhode Island's beaches, therefore, ABC was important to reduce impacts to the roadway and increase safety of motorists and construction workers.
During the Type Study Report Phase, CHA studied the feasibility of using either Prefabricated Bridge Units (PBU's) or LSM to attain a rapid replacement of the bridge. LSM was selected as the preferred alternative versus PBU's for the following reasons:
Lower anticipated construction costs.
Shorter shutdown/roadway cross over period since a more complete bridge would be moved into place resulting in reduced schedule risk for the Contractor.
Less work required following the shutdown since a more complete bridge would be in place.
Increased long term durability of the bridge since there would be no longitudinal joints in the deck.
Smaller cranes used during construction.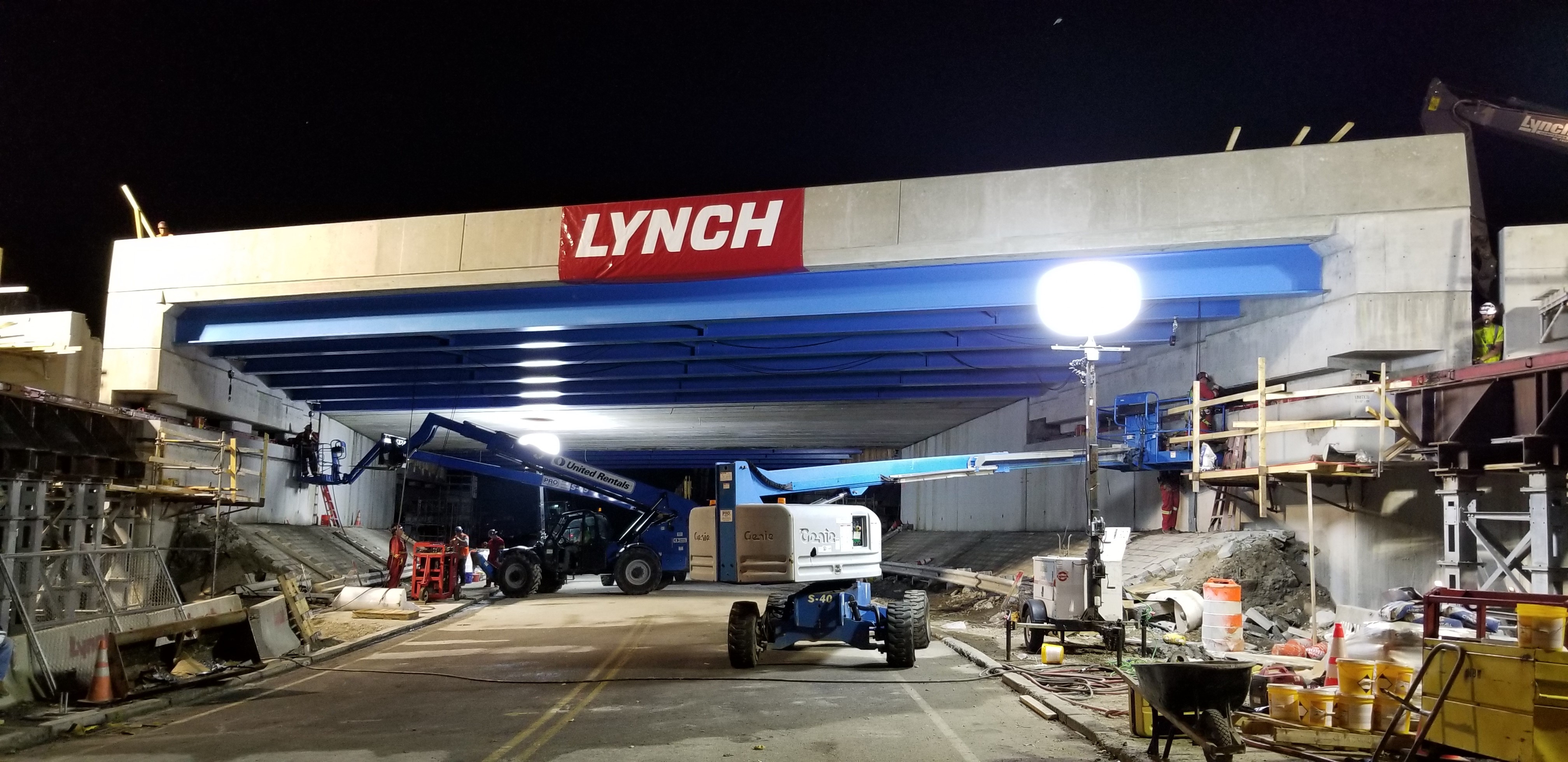 New superstructure slid into final position
The lateral slide method for Lafayette consisted of prebuilding the northbound and southbound superstructures on elevated temporary support structures adjacent to the existing bridge abutments using conventional construction techniques. Soil borings were conducted to provide geotechnical information and recommendations for the temporary support foundations. The proposed superstructures consisted of steel beams with a composite, reinforced concrete deck. A pavement thickness of 3" was provided over cold applied membrane waterproofing. Semi-integral abutments were used to protect the beam ends and eliminate deck joints, with detailing differing slightly from the RIDOT Bridge Standards. The semi-integral backwall extends down behind the bridge seat to provide protection from water and soil. The semi-integral abutment also incorporated slide shoes and was detailed to enable several different sliding systems to be used. The slide shoes also serve as the locations for the permanent bearings and were constructed as shown in the attached figure.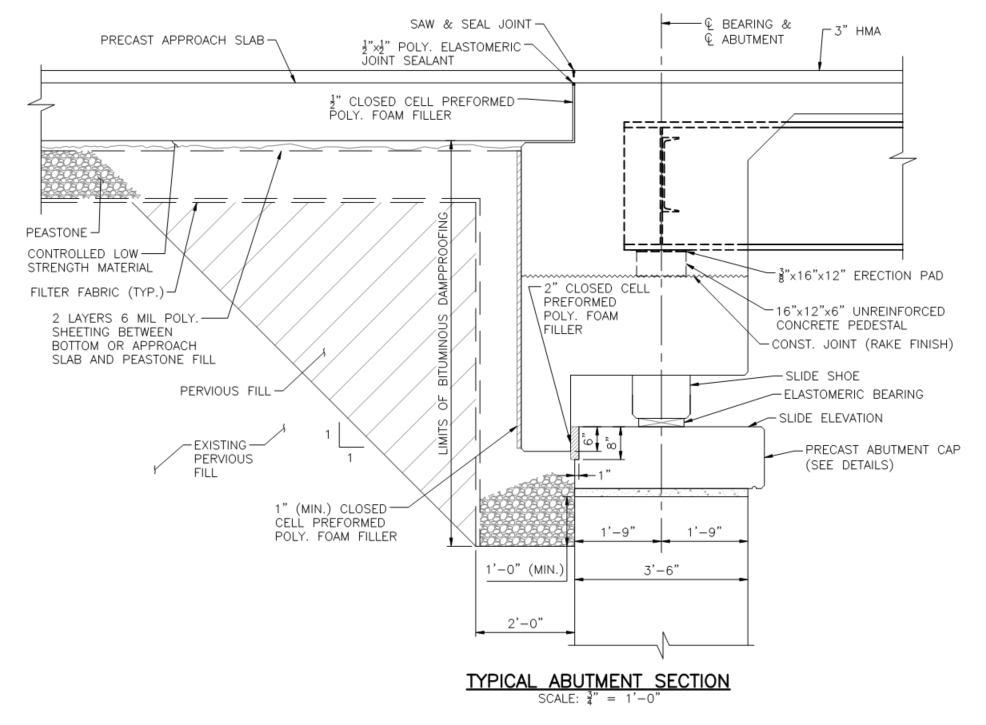 Typical abutment section with slide shoe
During each shutdown/cross over period, the existing superstructure was demolished, and the new superstructure slid laterally into place. During the weekend shutdown, traffic on Route 4 was diverted to the opposite bound with one lane in each direction being maintained. During the shutdown Lafayette Road was closed and detour put into place. With traffic diverted, the existing superstructure was demolished and a portion of the existing abutments and adjacent wingwalls removed to a required elevation. Precast concrete bridge seats were then placed and attached to the existing abutment. The new superstructure was then slid laterally into place onto the new bridge seat using a skid system. The superstructure was then jacked, temporary skid system removed, and the structure was set down onto permanent bearings. Finally, the structure was backfilled, precast approach slabs set into place, and pavement placed. This process was then repeated in the other bound of traffic. Following the accelerated construction period, the barriers on the wingwalls and end posts were reconstructed along with other additional miscellaneous highway upgrades.