Many municipalities/utility owners are evaluating their water supply needs, as many drivers and factors limit their supply. Many of these towns look towards the Massachusetts Water Resource Authority (MWRA) for additional supply. The factors that are drivers for additional water supply include, drought, increased population, climate change and perfluoroalkyl & polyfluoroalkyl substances (PFAS) that are above applicable standards in drinking water supplies. This article provides a quick summary on state level updates in relation to PFAS and expansion studies that are being pursued by the MWRA to provide additional water supply to the effected communities.
The state of Massachusetts is providing support to communities that are seeking to prevent PFAS from entering their drinking water supply. The Massachusetts Department of Environmental Protection (MassDEP) is providing funding for these communities to test for PFAS and provide grants to support upgrading existing treatment plants to treat for PFAS. The state of Massachusetts is working on stopping PFAS at the source through legislative actions, regulatory updates and pursuing litigation when necessary. The current state regulations promulgate a maximum contaminant level of 20 parts per trillion for six PFAS compounds in drinking water, groundwater, and soil. MassDEP is reviewing its current PFAS standards this year (2023) as part of a three-year cycle. Similarly, EPA is coming out with new maximum contaminant levels for 42 PFOS and PFOA compounds that would be more stringent than the MassDEP standards.
All public water supply utilities should expect updates to these standards and possibly more stricter regulations/standards. Currently MassDEP is also requiring that all public water systems test for PFAS in drinking water and MassDEP is administering programs that will test and treat for PFAS in drinking water communities. As of the end of 2022, 41 towns have been awarded $10 million to respond to PFAS contamination. The state has also allocated $30 million in remediation and testing for PFAS, and over $100 million from the clean water trust for PFAS remediation/testing. To help advance legislation to stop and mitigate PFAS contamination, a PFAS Interagency Task Force was created. This group provided a Final Report on April 2022, which provides recommendations to prepare Massachusetts residents on updates to stopping and managing PFAS contamination. The recommendations span the following topics:
Fund PFAS Detection and Remediation
Support Environmental Justice Communities
Phase Out PFAS in Consumer Products
Expand PFAS Regulation
Encourage Private Well PFAS Testing and Remediation
Support Firefighters and Local Fire Departments
Address PFAS Contamination Accountability
Enhance Public Awareness of PFAS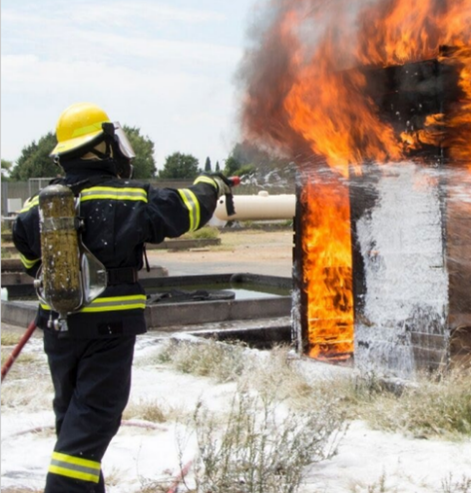 Firefighter using Aqueous Fire Fighting Foam (AFF) to fight fires
As described above, more stringent standards will be coming down the pipeline and communities may no longer be readily able to use their water supply, therefore turning to regional sources. The MWRA is attempting to provide support and to ensure a more resilient water supply to these communities by performing expansion studies. Expansion studies have been completed for:
Ipswich River Basin Communities

Communities include Ipswich, Lynn, Lynnfield Center Water District, Middleton, Peabody, Salem, Topsfield, Wenham, and Wilmington
Expansions studies evaluate scenarios that fully support residential and fire flow demand/water needs or partially support these communities. The scenarios proposed provide 42.1 to 12.5 Million Gallons per Day (MGD) with conceptual project costs ranging from $400k to $1.2 million.

South Shore communities

Communities include Abington, Avon, Brockton, Cohasset, Handover, Hingham, Norwell, Rockland, Scituate, and Weymouth.
Similar to the Ipswich River communities, the scenarios go through an evaluation of fully supporting or partially supporting these communities. The scenarios provide a supply ranging from 17.3 to 40.5 MGD, with a conceptual project cost ranging from $540k to $1.5 million.
The MWRA is going through a process of evaluating expansion studies for metro west communities which includes Acton, Ayer, Bedford, Chelmsford, Concord, Groton, Holliston, Hopkinton, Hudson, Lincoln, Littleton, Maynard, Natick, Sherborn, Sudbury, Wayland, Wellesley, Westford, and Weston. MWRA is ready to provide 39.5 MGD to these 19 communities and the preliminary long-term supply evaluation will be completed in the Spring of 2023. The MWRA is starting to engage some communities and assisting them with getting a secondary source of water supply and can currently provide 50 MGD if needed.
These programs and more are supporting communities in Massachusetts by making their water supply more resilient as factors deteriorate the current supply. Other considerations must be taken into account before a community decides to be either fully or partially supported by the MWRA. As the nature of the water industry evolves, it is good to know that support is available for water suppliers.