The bridge carrying Route 44 over Route 24 in Raynham, MA, is a critical asset within the local and regional transportation networks, providing a regional link between Providence, RI, and Southeast Massachusetts and locally between the two halves of Raynham divided by Route 24. Originally constructed in 1950, the bridge had reached the end of its useful life and was exhibiting severe structural deficiencies.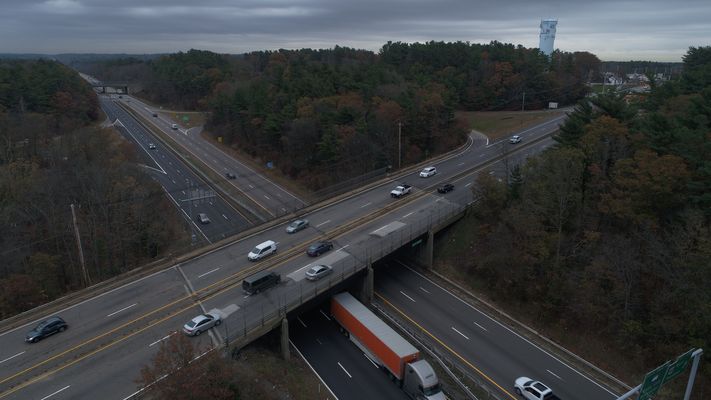 Existing bridge, Route 44 over Route 24
In 2017, MassDOT awarded a design-build contract to the VHB/SPS New England team for final design and construction of the replacement bridge. The existing four-span bridge would be replaced with a two-span, 166-foot-long bridge with added bike lanes and widened sidewalks. With a need to minimize disruption to the traveling public and the adjacent communities, VHB and SPS saw tremendous opportunity in an accelerated construction method never before applied on a MassDOT project—a lateral slide.
Key Challenges
Like most modern-day bridge replacements, the primary goal on this project was to "get in and get out," accelerating construction and minimizing traffic disruption. This can be difficult when faced with high traffic volumes and limited real estate: Route 44 and Route 24 see daily traffic volumes in excess of 25,000 and 60,000 vehicles per day, respectively.
Due to the limited width of the existing bridge and traffic demands along Route 44, conventional staged reconstruction would have required three separate, year-long phases. The three phases would also require a middle work zone on Route 44 where eastbound and westbound traffic would be split on either side, introducing safety concerns for the travelling public and construction crews.
Accelerated Bridge Construction
Accelerated Bridge Construction (ABC) has become commonplace in the industry and is now expected by the general public whenever high-volume roadways are involved. As ABC methods can be costly, the question is often: "do the benefits of reduced traffic impacts and enhanced safety justify the added cost?" On the Route 44 Bridge project, acceleration meant the elimination of a construction phase, and this could most effectively be achieved using a bridge slide method. The cost savings associated with eliminating a construction phase resulted in a lateral slide approach that was cost-competitive with conventional three-phase construction—and it could be completed in less than a year. Add in the safety benefits, and the lateral slide was a clear choice for the Project team and MassDOT.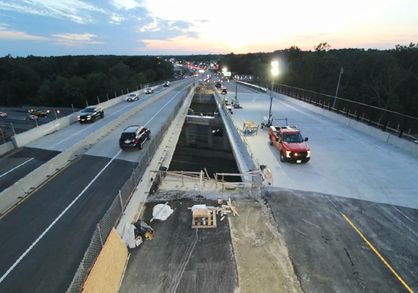 Pre-Slide, south bridge on temporary alignment (view from east)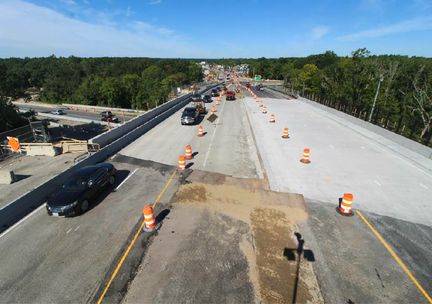 Post-Slide, south bridge in final alignment (view from east)
Bridge Lateral Slide
While lateral slides have been completed by other transportation agencies nationwide, this was the first time it had been applied to a MassDOT bridge replacement. VHB worked closely with SPS to tailor an ABC approach to the physical site constraints and traffic demands for each roadway. A critical component was the ability to construct at least a portion the new bridge in a temporary "offline" alignment. On similar projects, this situation is often addressed by building a temporary bridge and approach roadways completely offline or building the full superstructure offline and completing the existing bridge demolition and a lateral slide over a full weekend closure. On this project, it would be too costly to construct a temporary or permanent bridge completely offline, and a full weekend closure of Route 24 was not permitted due to high traffic volumes.
The team developed a solution that was a balance between a full bridge slide and conventional staged construction, that consisted of:
Constructing southern superstructure approximately 20 feet south of final alignment.
Tying in temporary roadway alignment using the new, permanent approach retaining walls and bridge abutments, but with a temporary wire wall overbuild constructed on top.
Shifting all four lanes of traffic from the existing bridge to the first half of the new bridge on temporary alignment.
Demolishing the remaining existing bridge and constructing the northern half of the new bridge.
Sliding southern superstructure north into final position and removing the temporary wire wall overbuild, and
Completing final roadway construction and opening to traffic.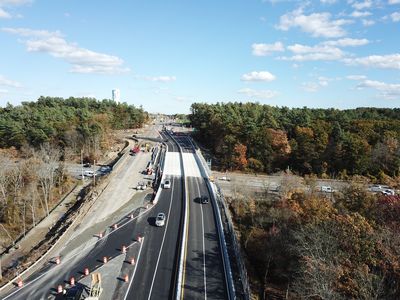 Traffic on first half of new bridge,
pre-slide alignment (view from west)
(Photo courtesy of SPS New England)
For this project, the bridge slide system consisted of temporary polytetrafluoroethylene (PTFE) and stainless-steel surfaces along the slide paths (abutment and pier beam seats), threaded bars, and hydraulic pull jacks placed on the outside faces of the diaphragms. The goal was simple: provide the lowest coefficient of friction possible to allow for efficient movement of the superstructure. The stainless-steel plates between the bridge bearings and the PTFE slide surface produced a coefficient of friction estimated at 0.02. All slide elements were designed for a higher coefficient of friction of 0.10, accounting for the initial "break-free" force. During the bridge slide operation, both Route 24 and Route 44 were required to be closed and detoured, with the Route 24 closure limited to a single 10-hour overnight period. To work within this timeline, the bridge was originally erected with all slide elements in place and locked down with temporary lateral and longitudinal restraints.
Bridge lateral slide components at pier
On the night of the slide, the temporary restraints were released, allowing the jacking operations to begin almost immediately. The bridge superstructure—weighing more than 2 million pounds—was moved into place in less than 10 hours using just four hydraulic jacks. A final operation was completed the following night to jack the superstructure vertically and remove the sliding elements before lowering the bridge into its final position.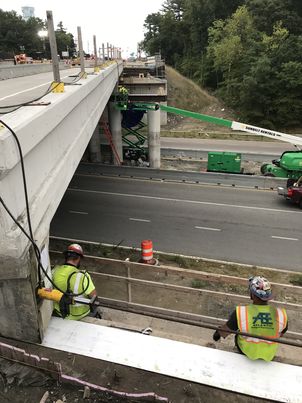 PTFE slide surfaces and jacks, during slide operation
The bridge lateral slide was successfully completed on August 29, 2020. This Project has contributed valuable experience and lessons learned for both the Project Team and MassDOT—experience that will undoubtedly be applied on future lateral slide projects in the Commonwealth. Most importantly, it demonstrated the value of this construction technique and inspired confidence in its use going forward.