For over 30 years the Boston Society of Civil Engineers Section/ASCE (BSCES) has called The Engineering Center at One Walnut Street in Boston home along with the American Council of Engineering Companies of Massachusetts (ACEC/MA) and the Massachusetts Association of Land Surveyors and Civil Engineers (MALSCE). As with any home, repairs, rehabilitation, and renovation are occasionally needed. To fund these needed improvements The Engineering Center Education Trust (TECET), which owns and maintains One Walnut Street, took out a $450,000 loan to pay for the work including a new slate roof, window repairs, and technology investments. To help offset this loan's principal, TECET has launched the Building for the Future Capital Campaign. BSCES is proud to announce a contribution of $5,000 to this campaign. Additionally, we are proud to announce that every dollar donated by BSCES members will also be matched by BSCES, up to an additional $5,000. These donations will help TECET keep our home in good shape for years to come. To learn more about the capital campaign and to make a donation you can visit https://www.engineers.org/ways-to-give.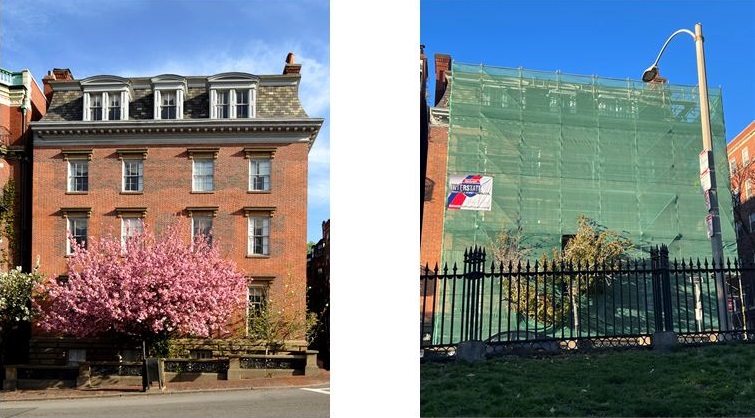 One Walnut Street, the home of BSCES under repair
If you're curious to learn more about The Engineering Center, please see the following article, which was first published in the Fall 1990 issue of CIVIL ENGINEERING PRACTICE, the Journal of the Boston Society of Civil Engineers Section/ASCE. (Updated March 2006).