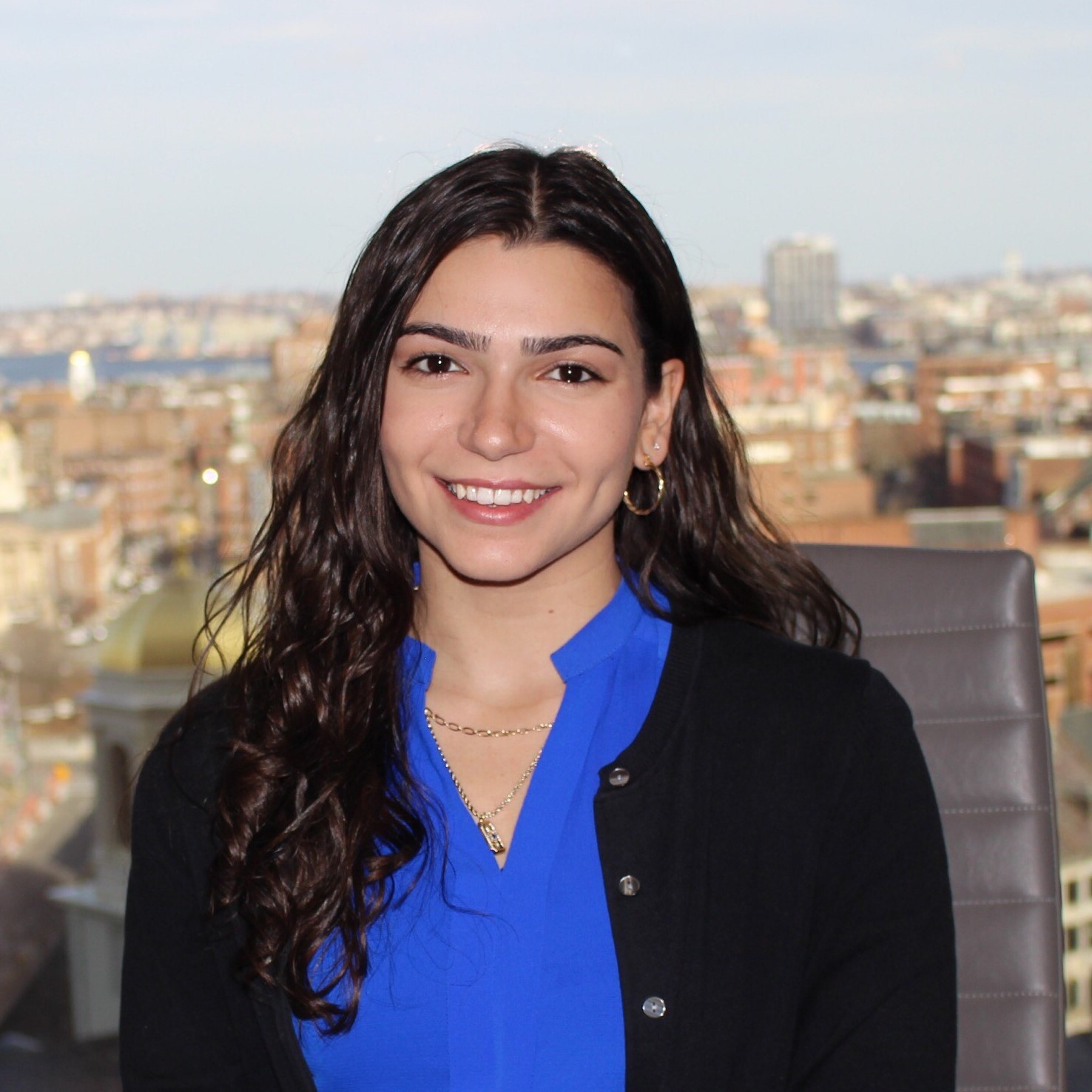 Annahid Dastgheib-Beheshti, PE, Arup, and Transportation & Development Institute Boston Chapter Chair
As the summer is coming to a close, the Boston Chapter of the Transportation & Development Institute (T&DI Boston Chapter) is excited to hit the ground running with two events already scheduled for the fall. With in-person events once again in full swing, we hope to not only put on great transportation and development related programming, but also to collaborate with other institute chapters and technical groups with the goal of providing even more networking opportunities and encouraging new membership to both BSCES and our committee.
Group Overview
As the institute chapter that unites the disciplines of planning, design, construction, operations, maintenance, sustainable transportation research, infrastructure, and land development, the T&DI Boston Chapter considers a range of issues and topics beyond just cars and traffic signals. Consequently, our programming aims to be as diverse as our members' interests.
The chapter holds bi-monthly meetings via Microsoft Teams. This year, our meetings will be held on the 2nd Thursday of every other month from 12:00 PM to 1:00 PM. We are always looking to increase our active membership, so if you are interested in joining in on T&DI Boston Chapter's planning efforts, please reach out to me at tdi@bsces.org! We are seeking members who are interested in planning or championing these events as a fun way to get involved.
2022-2023 Recap
By the end of the last fiscal year, the T&DI Boston Chapter successfully organized two in-person technical events and a joint social event with the Younger Member Group (YMG).
On September 29, 2022, T&DI Boston Chapter and YMG jointly hosted the annual "Civil Engineering Trivia Night" at Trident Booksellers on Newbury Street in Boston.. Delicious appetizers were enjoyed as 34 people formed teams and tried to prove their civil engineering knowledge to each other with the hopes of winning Starbucks and Dunkin' gift cards.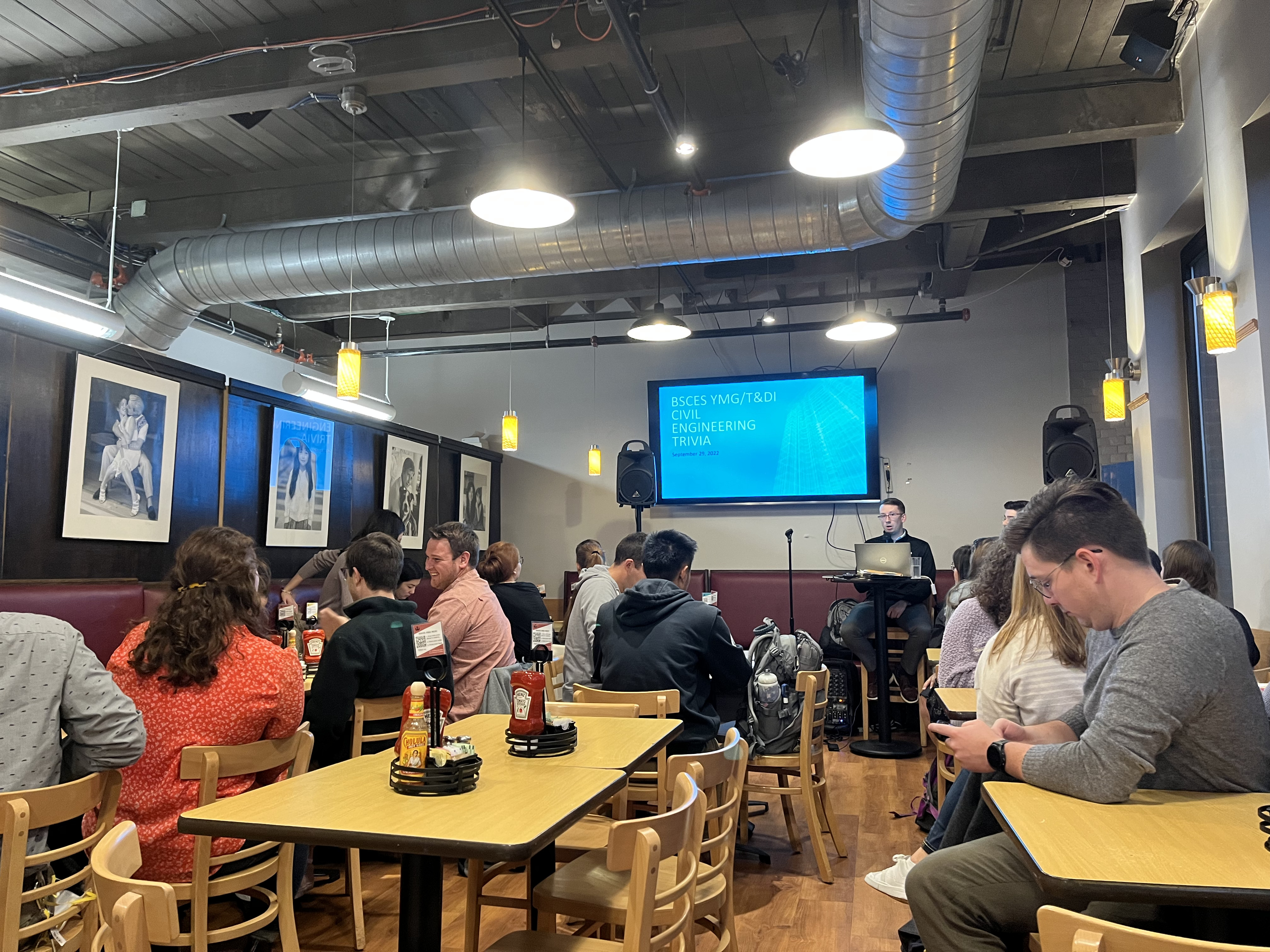 Trivia with T&DI Boston Chapter and the Younger Member Group
On November 16, 2022, we held a morning hybrid event, hosted in-person at Arup's Boston office and also streamed on MS Teams to online registrants. The event started with some casual networking over coffee and donuts before the technical portion began. The presentation was entitled "Moving Boston: Creating Safer Streets for All Modes of Transportation" and focused on the City of Boston Transportation Department (BTD)'s vision for Boston's streets to be safe, inclusive, and vibrant by planning, building, maintaining, and operating streets in a manner that increases access to opportunities, promotes safety and resilience, and fosters the highest quality of life for everyone living, working, and visiting the city. William Moose (transportation planner, city of Boston) discussed BTD's current transportation goals and how they tie in with Mayor Wu's initiative to create safe streets for all modes of transportation by expanding Boston's bike network, growing public bike share (Bluebikes), and more. Following William's presentation, Kate England (director of green infrastructure, city of Boston) talked to us about how BTD's work and new initiatives will tie in with development responsibilities in the city. The event was a great success with a total of 36 people in attendance in addition to several participants joining us virtually.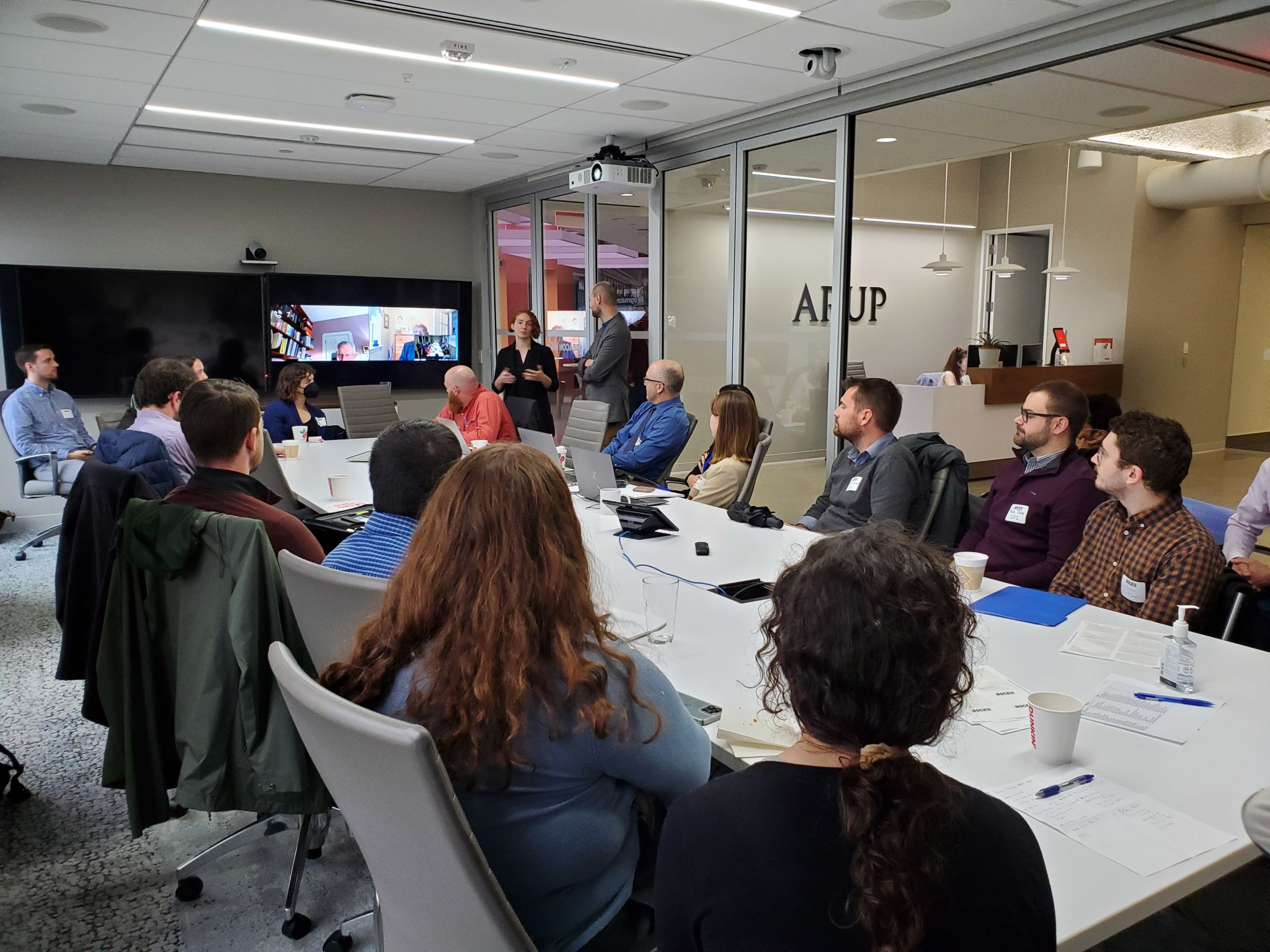 Presentation from representatives from the city of Boston
On March 30, 2023, we hosted an event at the MassDOT District 3 Headquarters where Thomas Emerick (deputy district highway director, MassDOT District 3) gave a tour of the new facility in Worcester. The four story, 78,000 square foot building, was uniquely built into a natural slope. The slope accommodates parking facilities both on top of and below the building structure, while also helping the building blend into its surroundings. The building was designed as a Net Zero Energy Building, including things such as solar arrays above parking areas and on the roof of the building. A total of 26 people enjoyed the tour and then met in the building's atrium for a light lunch and some networking.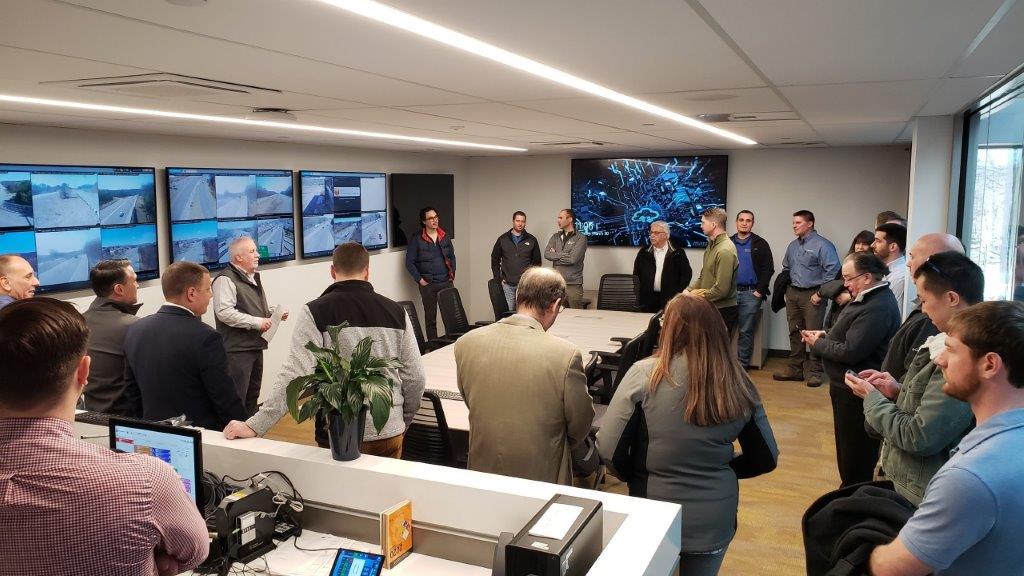 Touring the new MassDOT District 3 headquarters
Signature Event: Bertram Berger Seminar
The Bertram Berger Seminar is the marquee event of the Transportation & Development Institute Boston Chapter's yearly calendar. The seminar style event has traditionally featured panel discussions, networking, a keynote address and presentation of awards and scholarships. The Berger Planning Committee worked diligently to try to host the seminar this past Spring after a three-year hiatus, but we faced some scheduling challenges and made the decision to postpone it until Fall 2023.
As of writing, the 2023 Bertram Berger Seminar is currently scheduled for Tuesday, October 17 at The Conference Center at Waltham Woods. This year's theme is "Connecting the Commonwealth" and our presentations will aim to explore recent project successes, lessons learned, and future plans that will connect communities and transportation hubs together within the Commonwealth. Alongside some other great speakers, Monica G. Tibbits-Nutt (Acting Secretary of Transportation for MassDOT) will be delivering our keynote address!
If you'd like to get involved with planning this event, please reach out to tdi@bsces.org.
The Road Ahead
The group held our first meeting of the new fiscal year on July 13, 2023. During this meeting, the executive committee welcomed some new faces/voices, discussed the year's planned T&DI Boston Chapter events, set meeting schedules, and re-evaluated goals.
In addition to the previously mentioned Bertram Berger Seminar, T&DI hosted a social/technical event on Thursday, September 14 entitled "The Design and Creation of Polar Park." Peter Dunn (chief development officer, city of Worcester), Stephen Rolle (commissioner of transportation and mobility, city of Worcester), and Austin Turner (principal, Bohler) shared how this feat of planning, transportation, and civil engineering was accomplished. We started with a presentation and Q&A session followed by some networking at the nearby Bay State Brewing Company. We then headed over to Polar Park to watch the Worcester Red Sox take on the Syracuse Mets.
Summary
In order to become successful in achieving our goals, we are looking to engage innovators, leaders, and motivated individuals in the transportation and development profession. It is through new ideas and an extensive knowledge base in engineering practices, social interactions, and event management that the T&DI Boston Chapter will contribute to enhancing the engineering community at large. This is your opportunity to stand out and show what you can do outside the day-to-day practices within your private company or public agency and to advocate for and help communities throughout the Commonwealth. If you are a transportation or land development professional looking for a group where you can discuss current happenings, exchange ideas, and strive to make a difference – you are invited to join the Boston Chapter of T&DI!
In addition to contacting tdi@bsces.org to learn more, you can visit our LinkedIn and Twitter pages.
Be sure to review our newsletter for current news on events and meetings for the T&DI Boston Chapter.