While COVID-19 may have stopped some things, there are some traditions that persevere. Such is the case for the two major BSCES competitions, the New England Regional Future City Competition and The Model Bridge Contest. Future City has been running strong here in New England for 23 years, and the Model Bridge Contest just had its 30th Anniversary this year. To say the year was very different is an understatement. Everything had to be virtual. This meant that for both competitions, the students needed to build their projects from home. While several of the schools in Boston were involved, there was also involvement from as far away as Millinocket Maine, Waterbury Connecticut, and Burlington Vermont. Flexibility was the mantra this year, as we have always felt it is of the utmost importance that students have positive experiences they will remember. Because of support from our sponsors, BSCES can give students the chance to participate at no cost and can supply students with the materials they will need to assure that all involved have an equal chance.
To run the Model Bridge Contest, every student (grades 5 through 12) was given all of the tools and materials they would need: a tape measure, an X-Acto knife, 50 sheets of 60# cover stock, single-sided tape, double-sided tape, and, for shipping the models back and forth, an 8" wide x 24" tall x 48" long box plus bubble wrap. Of the students registered, 44 of the models made it back to be tested. Testing was done in isolation. Each bridge was filmed when tested, and on February 13th, all the students "came together" on Microsoft Teams and enjoyed the live broadcast! For the "Most Aesthetic" category, judged by lead engineers from the City of Boston, the MBTA, MassDOT and NCEES, the Swampscott Public Library team "Red Heat" was selected for their open spandrel deck arch design.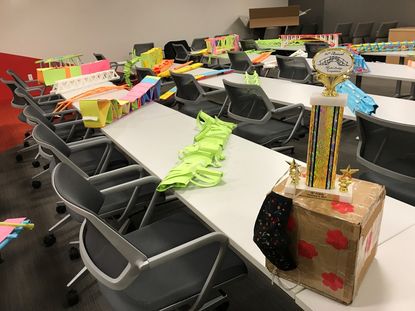 Picture of Model Bridge Testing Site
This year, the Swampscott Public Library Model "Captain America" won the Ultimate Load top prize, weighing in at 0.84 pounds, the bridge took 47.82 pounds, for an efficiency rating of 56.93! Watch the video of the event here: https://www.youtube.com/watchv=cY1y5ue4kfU&ab_channel=EngineerYourFuture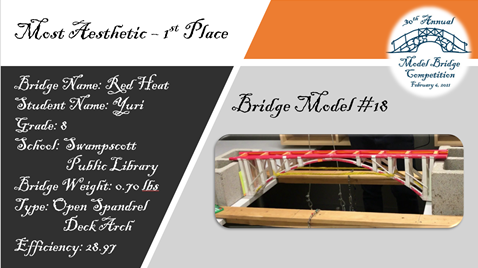 Model Bridge "Most Aesthetic" Winner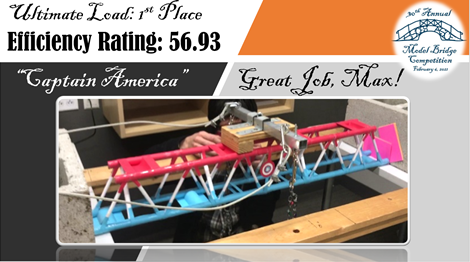 Model Bridge "Ultimate Load" Winner
The New England Future City Competition is technically ongoing. Because many schools could not finish due to logistical issues, the special awards celebration has been moved to May 13th. At the time of this article, all but one school have their cities completed, t-shirts are being distributed, and the special awards judging is being organized.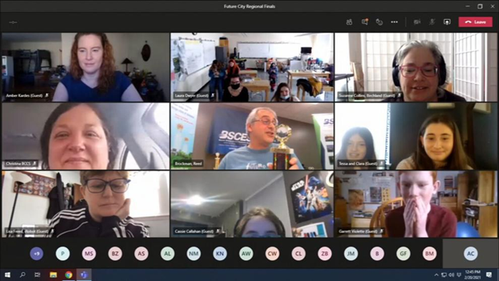 Screenshot from Future City Regional Finals
The top four teams competed in the New England Regional Finals on February 20th, also broadcast live from AECOM. While the number of teams competing, which is expected to be 10, is less than in the past, thirty schools joined in total, with many utilizing components noncompetitively. In one case, Boston's Murphy School utilized Minecraft to create cities! The Future City Competition, open to all students grades 6-8 in New England as part of this region, challenged the students to dream up their ultimate city of the future, but this year with a twist: the cities all needed to be designed to thrive on the moon. We were fortunate to have engineers from NASA and the Harvard-Smithsonian Observatory joining in the fun, and the students came in with all sorts of amazing ideas. Students had been working on this from September to February. This year, for the first time, there was a virtual tie: Masconomet, mentored by AECOM's very own Doug Heath, tied with Birchland Park from East Longmeadow. Because Birchland Park had the higher score in Q&A, and that is the tie-breaker, they will go on to nationals for their first time in their over 12 years of competing.
Coming up, BSCES is planning to have more virtual contests and virtual tours as part of the Cambridge Science Festival. To get involved, contact me at Reed.Brockman@AECOM.com.
Follow the links below for news stories about the Future City Competition:
https://www.westernmassnews.com/news/local-middle-school-wins-regional-engineering-competition/article_ea546aee-748d-11eb-9609-475af925b87b.html
https://www.thereminder.com/localnews/eastlongmeadow/birchland-park-team-wins-future-cities-living-on-t/
https://boston.cbslocal.com/video/5342870-east-longmeadow-students-win-future-city-competition-for-their-city-on-the-moon-design/
I hosted the 2021 Model Bridge Contest which was organized by BSCES. The judges were Alex Bardow, Terry McCarthy, Bruce Jacobs, Bill Egan and Paul Tyrell with oversight by Alex Bonnar. Models were tested with assistance by Jim Velino, Gareth Rowe and Shahriar Beigi.
Future City was put together by the BSCES Public Awareness & Outreach Committee. Michael Littman led the teacher coordination. Alicia DICecca led all judging and volunteer coordination. Bryan Paul oversaw the finances. Alex Bonnar, Kristin Paul, Sainey Badjie, AnaCristina Fragoso, Kate Bowe and our Connecticut representative Emily Boussada all played a part as well. The list of judges is extensive, and we appreciate the effort of all 120 who volunteered!
Thank you to our sponsors ...
2020-2021 Society Sponsors: AECOM, EarthSoft, GEI Consultants, Inc., Keller
2020–2021 BSCES Program Sponsors: Alfred Benesch & Company, BETA Group, BSC Group, CDM Smith, Childs Engineering, Cianbro Corporation, Collins Engineers, Inc., Dewberry, Green International Affiliates, Inc., GZA, Haley & Aldrich, Inc., HNTB, Horsley Witten Group, Howard Stein Hudson, Hoyle, Tanner & Associates, Inc., Jacobs, J.S. Held LLC, Kleinfelder, Nitsch Engineering, Department of Civil and Environmental Engineering, Northeastern University, Sanborn, Head & Associates, Inc., Simpson Gumpertz & Heger Inc. , Skanska USA Civil, Stantec, Tighe & Bond, Inc., TranSystems, TREVIICOS, Tufts University - Dept. of Civil and Environmental Engineering, Weston & Sampson, WSP
2020-2021 STEM Sponsors: Alfred Benesch & Company, CVS Health, Euclid Chemical, GEI Consultants, Inc, Hinton Technical Services, McNamara Salvia, Patrick Engineering, Inc., RINET Company, LLC, Shell TechWorks