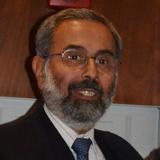 President's Report
by Malek A. Al-Khatib, PE, Vice President, Louis Berger
Dear Members,
On February 13, Massachusetts Governor Charlie Baker visited The Engineering Center and met with leaders of the engineering profession. The meeting was very informative and it included the opportunity to have a one-on-one discussion with the Governor. This meeting took place one day after President Trump unveiled his plan for fixing the infrastructure of the US. ASCE input facilitates more understanding of the strengths and weaknesses of our national infrastructure.
I implore you to be active in the political process on local, state, and national levels. Your opinion, professional expertise, and vote are valuable and important. It is our collective voices and votes that make all difference. Regardless of how complex the appearance of the political arena is, we must remember and act knowing that all politics start at the local level.
We may think we are busy with our daily work, aspirations to improve our technical skills, and personal lives. Our volunteer work with BSCES adds to this work/life balance. Do we still have the time for more? Do we really have the time to be involved in politics?
Notwithstanding the limited time we have, we engineers are technical and professional persons by nature and when it comes to infrastructure most of us are on the opposite side of the political spectrum. We deal mostly with facts, numbers, reliable data, and probabilities and least with hypothesis, uninformed public opinions, and unsubstantiated trends. Our expertise adds tremendous value to the political discourse and it is our civic responsibility to share our knowledge.
Conversely, we recognize that politics impact us, personally, financially, socially, and professionally. Every day, we use our expertise, innovatively applying state-of-the-art practices and technologies to maintain a depleted infrastructure operating with limited funding. Also, we recognize the limitations of continued patching and repairing of our depleted infrastructure and its lack of resiliency. Do we have to wait for natural disasters and the environment to be the wakeup call for the public and the politicians?
BSCES/ASCE advocates meaningful capital investment in infrastructure and promotes the adoption of sustainable practices. Note that ASCE mission includes; "ASCE is the voice of the civil engineering profession in federal and state policymaking. The Society's federal priority issues include infrastructure improvement and investment, drinking water and wastewater, water resources infrastructure, transportation and related infrastructure, natural hazards mitigation and infrastructure security, sustainable development and sustainable energy use, qualifications-based selection (QBS) for engineering services and STEM education. State priority issues include continuing education, licensing, STEM education, QBS engineering services, sustainability, and transportation infrastructure and related financing."
As a professional organization, BSCES, in line with ASCE, does not endorse or support any political candidate. However, BSCES strongly encourage our members to be involved in the political process. Our strategic plan for 2015 – 2019 includes:
Encourage the active participation of BSCES members in the political process.
Actions to Achieve Objective:
Promote participation at the ASCE Fly-In and at Engineers and Land Surveyors Day (E&LSD).
Promote BSCES member activity in the political decision-making process and participation on commissions, advisory councils, and study committees.
Encourage BSCES members to write editorial letters, serve on local boards and committees or run for political office.
Encourage that BSCES members have seats on public agency advisory committees, especially committees that are developing new design regulations or requirements.
And
Advocate for improved comprehensive planning and sustainability for infrastructure. Sustainable development should be seen as an integral component of civil engineering projects in the constructed environment.
BSCES supports a Legislative Fellow at the Massachusetts House of Representatives and State Senate. The Massachusetts Legislature proposes and considers legislation that leads to significant public infrastructure investments. Since 2001, BSCES Legislative Fellows have provided the legislators and their staffs with technical expertise as they develop programs to improve the Commonwealth's infrastructure and enhance the quality of life for all Massachusetts residents.
I invite you to join the leadership of BSCES. Our Government Affairs & Professional Practice Committee's mission is to serve as both a catalyst and facilitator in promoting civil engineering professional concerns related to local or national government affairs. By joining the Government Affairs & Professional Practice Committee you become better informed about many issues including the various infrastructure-funding programs that could be more effectively expedited to local government.
Please be more vocal and active in your community and interact personally with your community and your local and state politicians. Your technical knowledge places you in a unique position to understand and educate the public on the implication of the lack of infrastructure funding and how best to utilize investments in infrastructure. It is our responsibility to convey this knowledge to the public and politicians. We can do it together. Our collective efforts can make a difference.
I noted in January issue of BSCESNews that the Awards Committee is soliciting nominations for the following awards; The Citizen Engineer Award; Lester Gaynor Award; Government Civil Engineer Award; Clemens Herschel Award; Ralph Horne Award; BSCES Journalism Award; BSCES Pre-College Educator Award; Technical Group Awards; BSCES Younger Member Award; BSCES 2018 Employer Recognition Awards. Please consider nominating your company or fellow engineer, co-worker, friend, or someone who you think deserves special recognition for these awards. The nominations deadline is Monday, March 15, 2018. Nomination forms are included as inserts at the end of this newsletter. For additional information, please contact me at President@bsces.org
The featured group for the newsletter is the ASCE Environmental & Water Resources Institute Boston Chapter. This group is chaired by Ron Burns from Arcadia Technology, Inc. Please be sure to read Ron's report on the group's activities, which can be found on page 6.
Donations and sponsorship are lifelines for our organization. Our programs and activities remain viable with this important financial support. I'd like to once again thank our Society Sponsors and program sponsors for their commitment to our programing. In particular, I would like to thank EarthSoft, Inc. which is a Society Sponsor and the sponsor of this issue of BSCESNews. To simplify the donation process, we added a link in our website where you can donate any amount. Your individual donation is appreciated and I thank you for your support.