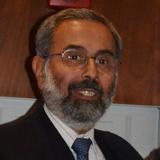 President's Report
by Malek A. Al-Khatib, Vice President, Louis Berger
Dear Members,
As we celebrate holidays with family and friends this season, ringing out the old year and embracing the new year, I want to wish you and your families health, peace and prosperity. The BSCES Board and I thank each of you for your participation in our Society. Your membership, volunteer work, and sharing of expertise is what makes our organization the successful, prestigious professional organization that we are. Our reputation for excellence that was built by our founding members in 1848 continues today. We can all be proud of what they built and we continue to sustain and grow.
I am sure that there are many worthy charitable organizations that you support. Please consider BSCES as one of them as you make your final contributions before the end of this tax year. As we are 501(c)(3) nonprofit professional organization, your contribution to BSCES is tax deductible.
We are very prudent with the funds that we receive:
Our scholarships, awards, and grants program exceeds $40,000 every year. Numerous professionals and students are benefiting from this program and are encouraged to advance in their professional endeavors.
Funding of our public awareness and outreach program exceeds $20,000 every year. We are reaching out to middle and high school students and the public educating them about the engineering profession and encouraging students to consider engineering as their future profession.
We hold several events for our younger and student members at nominal cost to provide opportunities for their networking and professional advancement.
We subsidize most of our events, lectures, and programs to provide you with networking opportunities and valuable technical knowledge and assist in your professional development while keeping your cost down.
We finance several activities to advocate for infrastructure investment and our profession such as the BSCES legislative fellow and Engineers and Land Surveyors Day at the State House, and other activities.
BSCES is considered one of the best ASCE sections and has won numerous awards and continues to gain recognition among the professional organizations nationwide and internationally thanks to you our BSCES members. However, these programs and events could not be sustained without financial support.
With a contribution of $50 or $100 from each of our members we can achieve our financial goals and maintain our activities and programs. Many firms have charity matching programs that will match your contribution with corporate funds. Your company's human resources department can advise you of their matching program. Please check with them to maximize your contribution. BSCES's Federal Tax Identification Number is 04-2103915.
Our volunteer organization is worthy of your serious consideration for financial support. Simply send a check payable to "BSCES Fundraising" to the Boston Society of Civil Engineers Section/ASCE, One Walnut Street, Boston, MA 02108 by year end.
Please be aware that a donation of $50,000 or more can be placed in a special fund with interest of such fund used for providing scholarship or grants in a civil engineering field of your choice. Your name, or the name of a loved one, will be recognized in every event associated with the fund. This legacy fund is done in our organization and some donations have been recognized for more than 80 years.
Many people commit to new goals for the next year. I commit to get maximum benefits for you by collaborations, partnerships and teams. The talent, resources, and energy that we have in BSCES is enormous and we see that teams working together are more than the sum of their parts. By volunteering with friends, and serving on committees with friends, we are able to accomplish more and have fun at the same time. Sharing the responsibilities is an easier activity, especially when we hold each other accountable.
I'd like to once again thank our Society Sponsors especially GZA GeoEnvironmental, Inc., which is the sponsor of this newsletter, and encourage you the read GZA's page 1 article entitled, "Game Changer: Development of Web-Based, Geospatial, Interactive Dam Breach Inundation Maps for Great River Hydro's Dams."
The Geo-Institute Boston Chapter, chaired by David Finocchio of Hayward Baker, Inc., is the featured group for this month. To learn more about this group, please read David's article on page 9 of this issue of BSCESNews.
I want to end with wishing you and your families Happy Holidays and Happy New Year!