Massport has embarked on a nearly $850 million infrastructure upgrade and expansion program to modernize Conley Terminal in South Boston. Bala Consulting Engineers has been a continual partner of Massport throughout this multi-year effort, most recently providing electrical engineering services to support the relocation and expansion of Berth 10 to host three state-of-the-art cranes.
The arrival and installation of three "mega cranes" at Conley Terminal marks a major milestone for Massport's robust program to revitalize the Port of Boston. Conley Terminal is the only full-service container terminal connecting New England to the Global Economy. Through a series of major infrastructure improvements and the commissioning of the ship-to-shore cranes now complete, Boston is officially "Big Ship Ready".
With a lifting height of 160 feet and width spanning 22 container rows, these cranes can serve larger container ships. With two of the cranes sitting 205 feet high and the third reaching 145 feet tall, the trio is truly record breaking. The cranes are the tallest low-profile cranes in the world. They can hold up to 12,000-14,000 TEUs (twenty-foot equivalent units). Being able to service large containers ships is increasingly crucial with the shipping industry shifting toward larger vessels that hold more containers. The trio made a two-month journey from Shanghai, China to Boston, arriving at the Port this Fall 2021 for final installation and operation.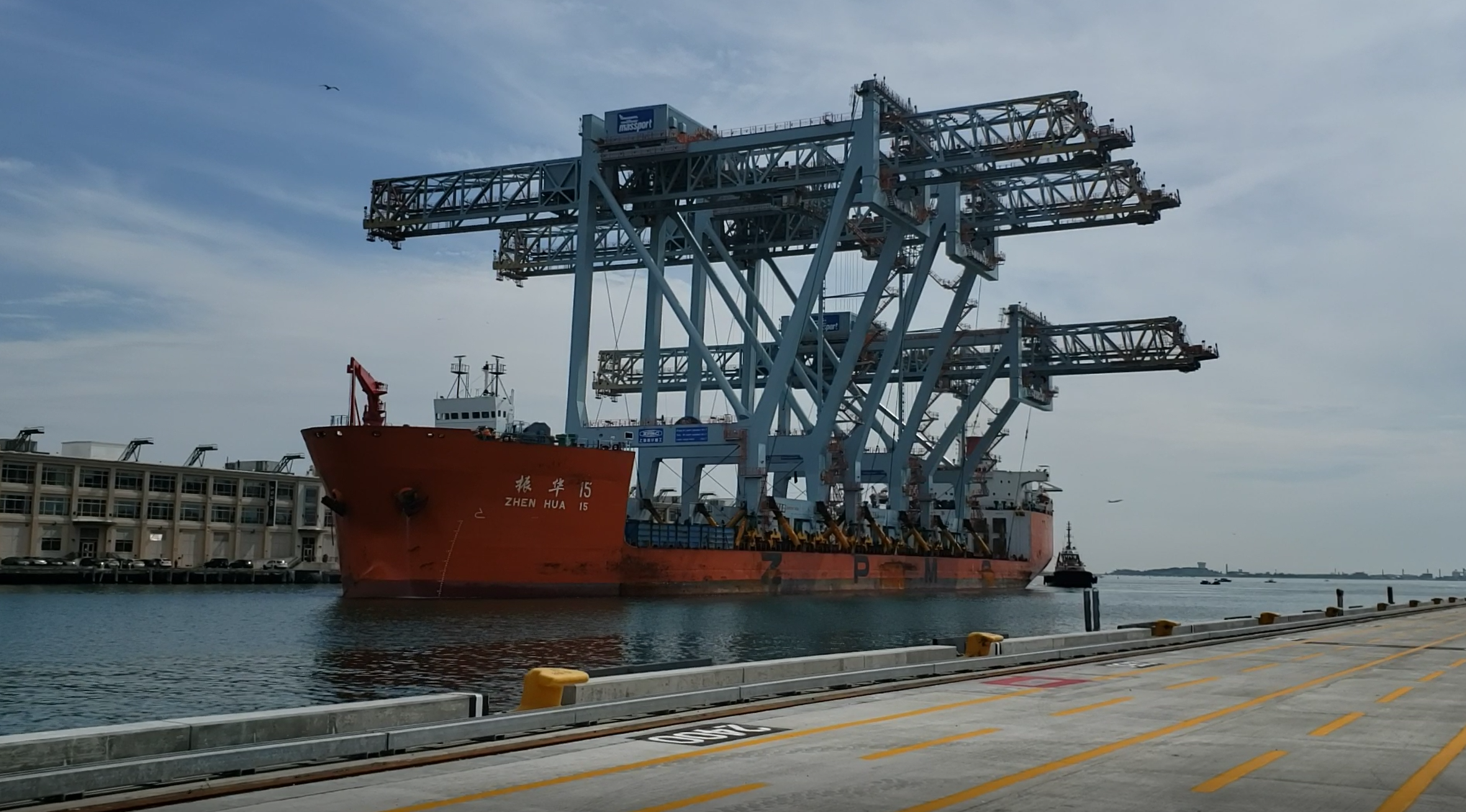 The cranes' arrival at Conley after their two month journey from Shanghai.
However, Conley Terminal needed sustainable infrastructure improvements before welcoming these cranes home. First, a new 1,250 foot long, 50-foot-deep berth, now called Berth 10, was constructed to support the cranes. Bala provided electrical engineering design and construction services for a series of electrical infrastructure projects related to Berth 10, including both Westward and Eastward expansions.
For the Westward expansion, Bala provided a new 40MW, 15kV main substation with switchhouse and incoming electrical services. Additional work included extending underground medium voltage, low voltage, and communications ductbank systems. These systems support high mast lighting, Berth support systems, crane power, and future ship to shore power. The communication scope included a terminal operations Wi-Fi system of cabling, switches and HMLP, and crane-mounted wireless access points.
The Westward expansion efforts also increased terminal resiliency and yielded sizable power savings. To increase resiliency, the local utility brought in a new third power feeder from the nearby K Street station. New controls for the terminal high mast light pole systems and lamps being upgraded from HID's to LEDs resulted in a 75% power savings.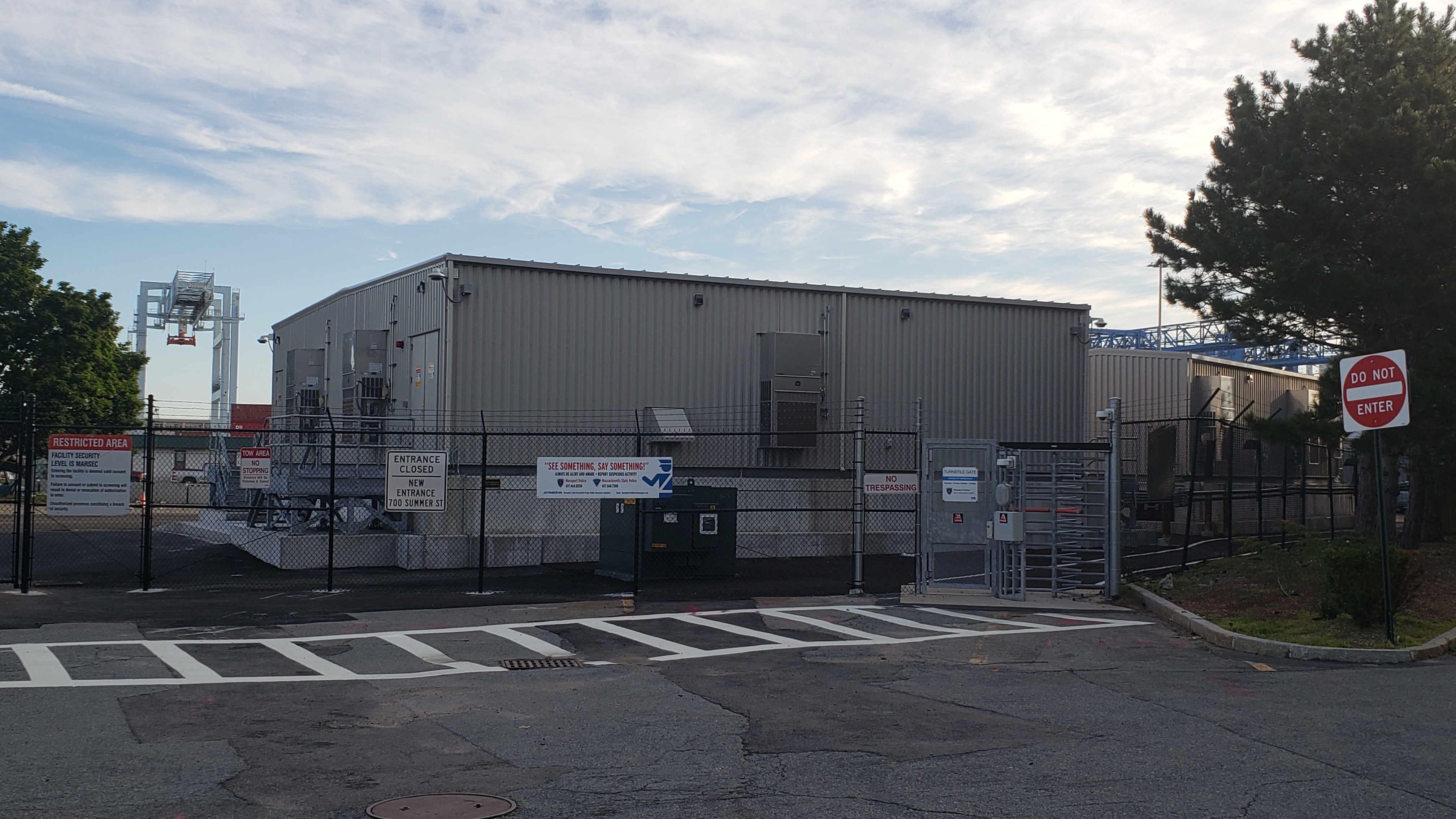 The new 40-megawatt power substation, a part of the Westward Expansion effort.
Berth 10, the home of the cranes, as well as accompanying container storage areas, were constructed as a part of this Westward expansion. To enable construction of Berth 10, the Boston Lobsterman's Cooperative facility was relocated further west and provided with new docking and boat storage areas.
On the Eastward side, 15 kVA primary power, and 480 Volt secondary power underground duct bank systems and cables were extended to the Harborside berths. These extensions support refrigerated container storage areas, add new power substations with distribution equipment, and repower the terminal's operations facilities and navigation control systems.
The preparation of Conley Terminal to become "big ship ready" stretches even further back than Berth 10's construction and expansion projects. Another project to make the terminal big ship ready was the creation of the Butler Freight Corridor. This project created a dedicated truck roadway while also positively benefiting community stakeholders. Butler Freight Corridor provides a more efficient and direct route for trucks to get to and from the Interstate Highway System. The creation of a more direct route for these trucks eliminated trucking traffic on the surrounding residential streets. During the Freight Corridor project, Bala was involved in fusing upgrades at the incoming service feeder and 13.8kV switches to address crane harmonics during simultaneous use. This $75 million project also included the creation of the now popular community green space, Greenway Buffer Park.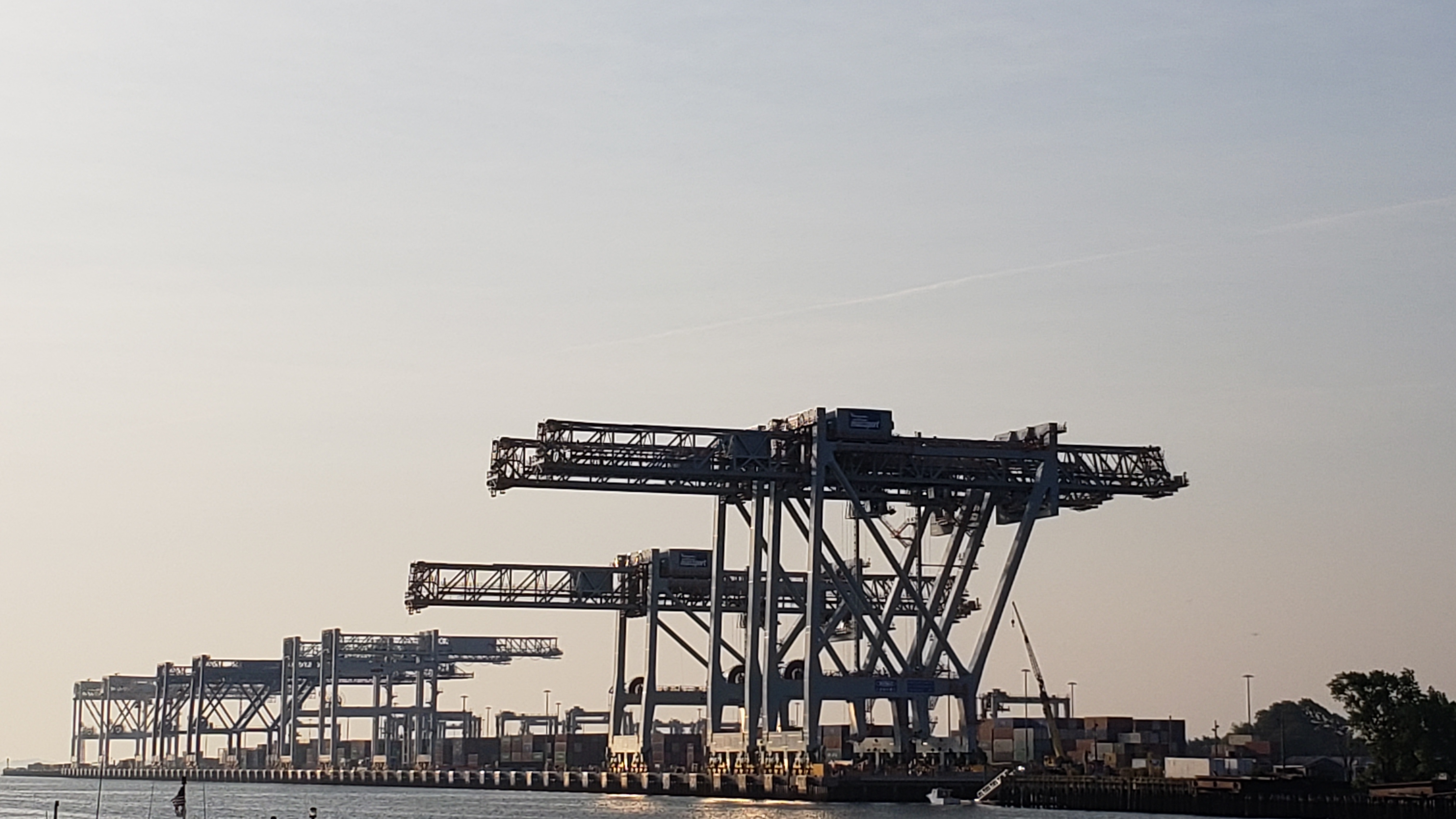 Conley Terminal cranes standing out during sunrise.
Bala is proud to be a part of the Conley Terminal and the Port of Boston's journey to become "big ship ready." The Port of Boston is now expected to double its capacity from what it was in 2019. The Port's ability to handle large shipping containers at a larger capacity comes at a crucial time. As the regional economy recovers from the impacts of the pandemic, the Port of Boston can now handle not only more cargo but also welcome more diversified service carriers. Conley Terminal redefines schedule, reliability, and efficiency, while offering relief to an especially stressed industry. Amidst the current global shipping and supply chain crisis, the Port of Boston is congestion-free and able to move more in less time.