It is not news that our society is booming with technological advancements, and we are all constantly trying to keep up with emerging technologies. These advancements also apply to our engineering field. Over the past century geotechnical and geo-structural instrumentation has proved to be a crucial component to infrastructure and rehabilitation projects allowing engineers to confirm their design assumptions and monitor structure performance and safety. What first started off as very basic, labor intensive, manual monitoring progressed into automated monitoring where data from a wide variety of geotechnical and geo-structural instrumentation (deformation, vibration, strain, pressure, settlement, etc.) was able to be collected at a significantly higher frequency while minimizing human error and effort. A successful instrumentation program is generally achieved through real-time data collection, processing, and analysis using cloud-based monitoring technology. Both automated and manual instrumentation require a hands-on approach from the engineer when the instrumentation gets installed. What if there was a way to further reduce the need for engineer involvement in the monitoring process?
Thanks to significant technological advances, we now can monitor deformation using various fully remote techniques, such as Interferogram Synthetic Aperture RADAR (InSAR). InSAR has proven to be the most widely accepted, value based, technology for the geotechnical and geo-structural spaces. Before getting into how we can use InSAR technology today in the monitoring field. Let's go over what InSAR is and how it is traditionally used.
What is InSAR?
Satellite-based InSAR has been around since the late 1990s. It has commonly been used to measure and represent the 3D geometry of the Earth using Synthetic Aperture Radar (SAR). Digital surface maps can be created using the differences in the phase of the waves returning to the satellite. These repeatable and comparable satellite images can subsequently be used to monitor sub centimeter deformations over the span of weeks to years. Traditional applications for InSAR monitoring consisted of geological events including earthquakes, volcanoes, landslides, and ice flow.
InSAR involves satellites emitting a pulse of radar energy to the Earth's surface and recording back the amplitude and phase of the pulse. The amplitude is the strength of the return signal and is generally influenced by the physical properties of the surface. The phase difference is a comparison between two radar images. Some benefits of InSAR include its ability to penetrate clouds and be equally effective in light and darkness. It also covers a very large area and can access locations that are generally inaccessible by humans.
Currently InSAR satellites are operated by government agencies from Italy, Germany, Canada, Japan, Korea, Europe, and the United States.
Using InSAR for Deformation Monitoring
Developing research shows that InSAR may be a useful and technological progressive tool in the geotechnical instrumentation world. InSAR technology can monitor deformation of land and certain structures up to a millimeter-level of accuracy.
InSAR can look at large sections of land within a fraction of time. Satellites are constantly circling the earth with InSAR capabilities retrieving and sending data for engineers to process. Looking at larger sections of land can be used as a resource for pinpointing sensitive areas that may require additional monitoring.
One of the most powerful tools InSAR data can provide is the historical data capabilities, allowing users to look into the past of their point of interest. By using historical databases, engineers can go back to learn more about the previous land and or structure movements in absolute deformation and the velocity of the deformation. This can be extremely valuable for forensics evaluations as well finding potential future failure locations, optimal building locations and more.
Although, there are several advantages to the capabilities of InSAR monitoring there are some limitations. Using automated surveying equipment provides real time data and alerts on sensitive projects. InSAR on the other hand must be post processed in order to provide deformation data and cannot include a real time alert. Also, processing this data is a challenge itself, several satellites provide free data that must be interpreted by qualified personnel. Considering that this data is coming from satellites the angle at which deformation can be recorded is limited. This restricts deformation monitoring to flat or sloped surfaces. Other limitations include the restrictions from thick vegetation and relying on satellite availability.
GZA Case Study
One of GZA's long-term monitoring projects includes the monitoring of surface displacements at three solar energy fields located on preexisting landfills in Eastern Massachusetts. Using manual techniques, GZA previously performed manual survey monitoring of the solar panels and their foundations on a quarterly basis. The process entailed deploying a team to monitor a discrete number of points at specific slope locations at each landfill to estimate yearly movement. This method took a lot of time and was heavily reliant on the stability of previously installed benchmarks. GZA knew there had to be a better method for monitoring the slope. Ultimately, GZA decided to use InSAR to continue the project's required long-term monitoring.
InSAR was the innovated solution for GZA to take field work out of the equation while still delivering superior results to our client. Leveraging Sentinel-1 satellite data, GZA collected current data and 3 years of historical biweekly data . Using up to 86 scans (acquisitions) encompassing over 6,500 points per landfill GZA was able to calculate and visualize the movement at each of the three locations.
Figure 1: Average displacement rate (m/year) of three landfill sites
represented by InSAR points
InSAR reduced the amount of effort required while increasing the accuracy, quality and quantity of collected deformation monitoring data. With calculated movements of up to 75 mm/year it is important that GZA continues to provide this data to its client to help predict potential areas of concern. Covering such a large piece of land without having to deploy field staff and collecting thousands of data points is invaluable.
Heat maps of movement were created to easily understand and visualize the historical movement of each landfill site. The satellite data also provided accurate contours of the ground surface to aid in identifying susceptible land features. For example, GZA observed that the highest amount of movement in both the soil and the solar panel foundations occurred at the crest of each landfill as shown below.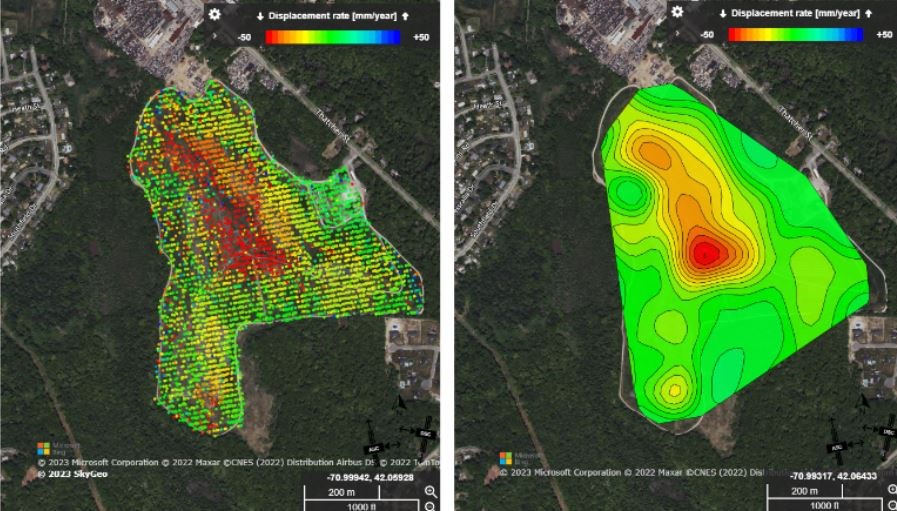 Figure 2: Average displacement rate (mm/year) of one landfill site
displayed as InSAR points (left) and as contours (right)
Conclusion
InSAR satellite data is a powerful tool that can be utilized in several different engineering fields with endless amounts of data and possibilities. With the ability to monitor large sections of land without leaving your desk, InSAR has the potential to open new doors. InSAR is currently used for monitoring dams, agriculture, and other civil engineering applications; this is just scratching the surface of uses. The quality and quantity of data provides a new overview of sites, which would normally require a massive amount of field effort. On one project alone GZA was able to remove field work completely while producing a superior deliverable. InSAR is an ideal alternative when it comes to long-term automated monitoring.