With summer nearly upon us, thoughts turn to outdoor activities and making the most of New England's short winter reprieve. Engineers are in general a safety conscious group and summer brings with it some of the most significant risks to public infrastructure that we see in this region - namely hurricane season and the potential for high wind and waves, storm surge, and extreme precipitation.
As professionals dedicated to designing and maintaining critical infrastructure in a region prone to hurricanes, it is vital that we educate ourselves on both a personal and professional level on the associated risks. Additionally, as stewards of public and private infrastructure, it is our responsibility to be prepared to immediately respond in a safe, efficient, and effective way.
To help bring awareness to these matters, the week of May 9th has been designated National Hurricane Preparedness Week and the week of May 16th has been designated National Business Continuity Week.
This article highlights some of the many resources available to help educate the engineering community on the risks associated with extreme weather events and provides an overview of resources available to assist in mitigating those risks to assure that we are prepared to respond when needed.
Hurricane Season Preparedness
The Atlantic hurricane season begins June 1 and continues through November 30. On May 20, NOAA released its annual hurricane season outlook in which scientists are predicting a 60% chance of an above-normal Atlantic hurricane season with an expected 13 to 20 named storms (winds of 39 mph or higher), of which 6 to 10 could become hurricanes (winds of 74 mph or higher), including 3 to 5 major hurricanes (category 3, 4, or 5; with winds of 111 mph or higher).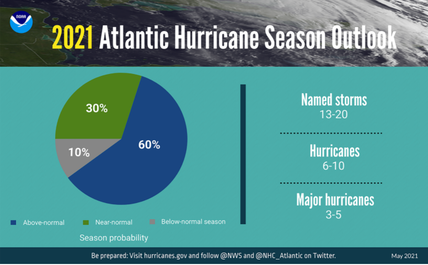 2021 Atlantic Hurricane Season Outlook (NOAA.gov)
There are many resources available for tracking extreme weather. On Twitter, be sure to follow @NOAA for timely updates; and a useful website to bookmark is NOAA's National Hurricane Center (NHC) website, which has some excellent forecasting and educational tools that visitors can use to educate themselves on all aspects of hurricane dynamics.
Many low lying coastal communities in New England are particularly vulnerable to storm surges; a very useful website is NHC's Storm Surge Inundation Tool, which publishes storm prediction data approximately 48 hours before the possibility of life-threatening storm surge events from tropical storms and hurricanes along the Gulf and Atlantic coasts. The published graphic is updated every six hours and provides an interactive map of coastal areas with detailed imagery depicting storm surge watch and warning areas.
National Storm Surge Hazard Maps are published by NOAA and provide interactive maps detailing vulnerability to storm surge flooding for different category storms for the northeast and other hurricane prone areas. The maps use a digital elevation model overlayed with a predictive modeling tool to provide an easy-to-use graphical representation of storm surge hazards for each hurricane category.
Massachusetts maintains an interactive suite of GIS based maps depicting hurricane inundation, real-time power outage, evacuation zones, and emergency planning information for the Pilgrim and Seabrook nuclear power plants.
Using these tools, you can quickly determine the vulnerability of your area. Evacuation zones are ranked by risk category from Zones A to C, all of which are vulnerable depending on the track and intensity of the storm. If you live or work in an evacuation zone, you should have a plan in place to both monitor evacuation instructions and have an identified safe inland evacuation destination.
Through a joint effort by several federal agencies, the Ready program is a public service campaign with the goal of educating and empowering people to prepare for, respond to, and mitigate emergencies, including natural and man-made disasters. The site, Ready.gov, has an excellent section on hurricane preparedness that provides tips for developing emergency plans in addition to a wide variety of other educational resources.
Business Continuity
Similar to personal education and preparedness for extreme events, it is critical for the engineering business community to be prepared for continuity of operations in order to fulfill our obligation to public safety.
Below are just some of the resources available to the industry:
In general, various guidelines for business continuity strategies follow a similar approach:
Identify and prioritize risks and essential functions through a self-assessment
Develop and distribute a written plan that clearly defines preparedness, incident response procedures, and lines of communication
Maintain readiness through training and periodic review and updating of continuity plans
Just as it is incumbent upon engineers to stay abreast of current design standards and best practices, it is our responsibility to be prepared for natural disasters and to have a plan in place to safely, efficiently, and effectively provide our services when they are most needed.