Regardless of where you go in Greater Boston, you are likely to see giant cranes, traffic cones and barriers, and workers in PPE on active projects for bridge reconstructions, roadway improvements, and new high-rise buildings. Construction is flourishing! The members of the Boston Chapter of the Construction Institute (CI) have played an integral part in many of these projects, and we have been closely monitoring the construction activity around us.
CI Boston Chapter focuses on organizing presentations and site tours of some of the most notable construction projects underway or recently completed. This month, we visited the newly opened replacement Gloucester Drawbridge over the Annisquam River in Gloucester, MA. The Gloucester Drawbridge carries MBTA's Rockport commuter rail line, and the original structure was first built in 1911. The replacement bridge, which recently reached substantial completion, is comprised of two independent single-leaf trunnion bascules operating side-by-side, each supporting one track. This $60 million project included staged demolition of the existing super- and substructures and construction of nine drilled shafts, three piers, steel approach spans, box beam approach spans, movable bascule spans, machinery room, and 3-story control tower.
Our event was a huge success, with a presentation on the construction staging and challenges given by John Felteau, the J.F. White Contracting Company project manager, and Peter Gagnon, PE, an MBTA senior project manager, followed by a tour of the structure. We went inside the new control tower, watched the bridge open and close, and then went into the bascule pier to observe the heavy machinery and bascule girders. We followed the tour with a networking event at a nearby restaurant, where we basked (bascule pun) in the glory of this magnificent bridge. Thanks to all who were able to attend, and a special thanks to Betsy Kirtland of Stantec (CI Boston Chapter member and 2021-2022 chair), who made the event happen.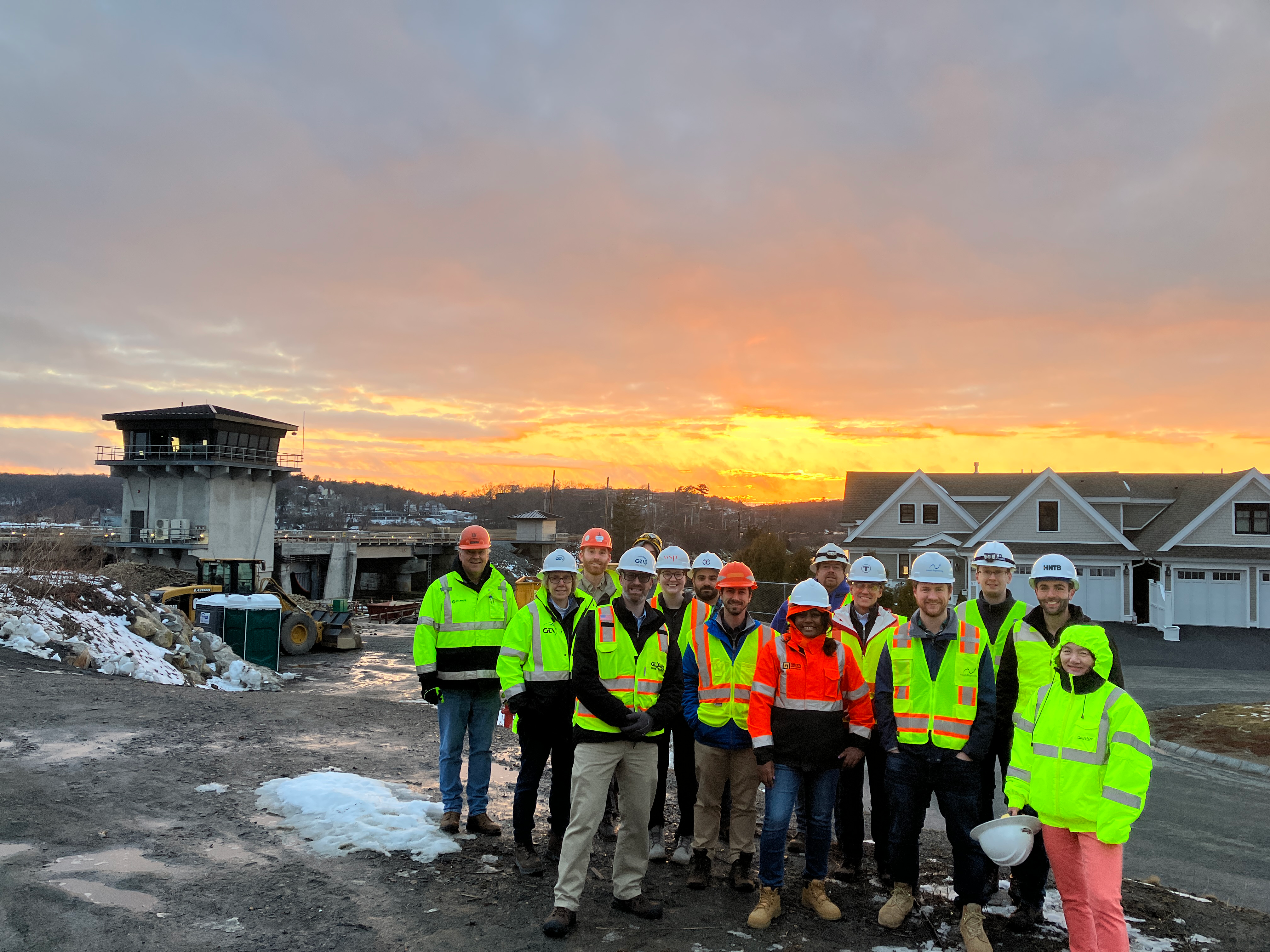 The CI Boston Chapter sponsored a tour of the newly-constructed
Gloucester Drawbridge in Gloucester, MA
In addition to our local project events, the national CI Board held its winter in-person meeting in Boston this past December. Hosted by Dan Cook (CI Boston Chapter member and 2015-2016 chair and CI Board member and 2020-2021 president) at Simpson Gumpertz & Heger's Prudential office, the meeting included several fruitful discussions. Most notably, the Board reinforced its 2023 focus on strengthening the relationship between CI's national committees and local chapters. The Board is eager to hear from CI members at all levels and locations.
The CI Boston Chapter is working on organizing a number of events for the spring and summer. Among our current initiatives is to increase our student outreach with local universities and high schools. Speaking of local universities, Northeastern University and Wentworth Institute of Technology are co-hosting the ASCE Northeast Student Symposium and Competitions next month, and they have included the new, pilot ASCE Construction Institute Student Symposium Competition as one of the competitions. The 2023 Northeast Symposium starts on Friday, April 21 and continues throughout that weekend.
Be sure to keep an eye on the BSCES events page to register for upcoming tours, presentations, and gatherings hosted by the Boston Chapter of the Construction Institute. We are always looking for new, passionate members from the construction industry to join our group's executive committee. If you have any interest in joining, please contact me at RMarshall@HNTB.com.