North Washington Street Bridge Site Tour
Sponsored by the Construction Institute Boston Chapter
Thursday, September 28, 2023
226 Causeway Street, 1st Floor, Boston, MA 02114
3:00 PM Presentation, 4:00 PM Site Tour
Speakers:
Chris Barry
Project Manager, J.F. White Contracting Company
Ed Baumann, PE, VMA
Vice President - Massachusetts Division Manager, Benesch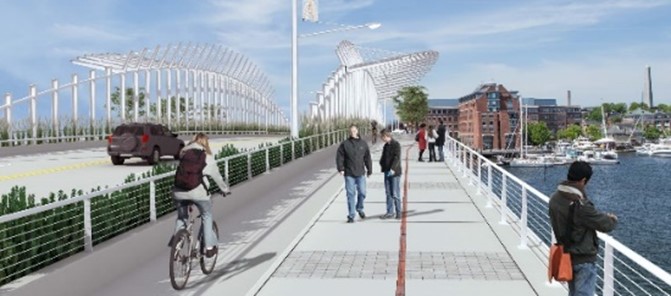 The North Washington Street Bridge has been a longstanding critical link between the historic North End and Charlestown neighborhoods of Boston. The original 1,100-foot truss super structure and granite block foundations constructed and opened in 1898 had faithfully served the community for 120 years and reached the end of their service life. The proposed new intermodal North Washington Street Bridge will provide four lanes of vehicular traffic, a dedicated inbound bus lane, two seven-foot-wide dedicated bike lanes, spacious sidewalks with scenic outlooks, and improved marine navigational channel below linking the Charles River and Inner Boston Harbor. Although a City of Boston owned bridge, MassDOT District 6 is administering the construction of the bridge since most of the funding for the project is provided by the Federal Highway Association (FHWA).
This presentation and tour will highlight a Value Engineering Change Proposal (VECP) of introducing a temporary vehicular bridge that improved construction logistics, alleviated impacts to the traveling public and produces a shorter construction schedule. The team will also discuss multiple design and construction aspects and challenges of this landmark feature bridge in downtown Boston.
Presenters will include members of the J.F. White team and members of the Benesch design team.
Registration Deadline: Wednesday, September 27, 2023
$45 BSCES Members, $40 Public Sector Members, $15 Student & Senior (65+) Members
$55 Nonmembers, $45 Public Sector Nonmembers
All attendees must wear work boots, a hard hat, high visibility vest, gloves, safety glasses, and outdoor attire. Please keep weather in mind.
All attendees must sign a Site Tour Liability Waiver in advance of the tour and email it to bsces@engineers.org
Information/Registration:
Click here to view the event flyer. Register to attend this meeting and pay by credit card by clicking Registration above. To register online for an event at the BSCES member rate you must login using your BSCES assigned username and password. If you do not know your BSCES member login information, email bsces@engineers.org or call 617/227-5551. You can also register for this event by mail or email. To do so, download and complete a BSCES Event Registration Form and follow the submission instructions. Cancellations received after Monday, September 25, 2023 and no-shows will be billed.
Parking Information:
There is street parking (usually metered) on Chelsea Street and Commercial Street. Most nearby parking garages are located on Causeway Street